The London Indian Film Festival 2016 is presenting the World Premiere of two Pakistani films made under the Zeal for Unity India-Pakistan filmmaking initiative, Khaemae Mein Matt Jhankain ("Don't Peek Into the Tent") and Jeewan Hathi ("Elephant in the Room").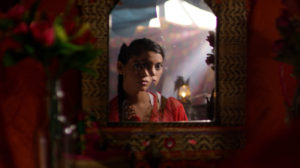 In Khaemae Mein Matt Jhankain, a circus mysteriously turns up in a remote rural village, and the men and boys of the community are mesmerized by the beautiful trapeze artist, Manju – all except Shano Kanzada, a local landlord who views the circus as good for only servants and the lower classes. Kanzada's view on life is that real men forget studying, and go out and shoot things; in contrast, his nephew Arsalan wants to study, and chides his uncle that he has no love for anything.
Phaju, one of the locals, tells Kanzada that he's seen a fairy at the circus – a fairy that he'd previously seen at the riverside when he was eleven, a fairy who, when she appears, causes roses to land in the laps of every man in the tent. Kanzada's interest is finally piqued, and he heads to the circus to find out more.
Phaju's father had told him that if you want to enslave a fairy, you have to hide her clothes – until she can recover her clothing, she cannot return to fairyland. This is exactly what Phaju thinks the circus owner has done with Manju. But how does a fairy enslave a man? And why would she? Khaemae Mein Matt Jhankain holds the answers – just be sure that you don't peek into the tent.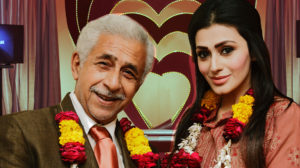 Like Khaemae Mein Matt Jhankain, Jeewan Hathi deals with a world of illusions – but in this case, the world of television, the world of soap operas and reality shows on a channel owned by C.B. Tabani (Naseeruddin Shah). When the morning show ratings drop, Tabani insists that the host, his wife Natasha, should be replaced by a younger, thinner woman, Simi Malik. Natasha is given hosting duties on a new show, Jeewan Saathi (Life Mate), which pits two couples against each other to determine which of them is the most loving and compatible. The prize on the line is, fittingly enough, a 60-inch LED television, and the poor but loving wife Khalda signs herself and her husband Siraj up for the programme because she, a tv addict, is determined to have the prize. As with so many things in life, Jeewan Hathi invites us to follow the money – the young couple don't realize that the winner has already been determined (they're up against one of the channel's sponsors and his wife), host Natasha loses not only her morning show but her husband to the woman who can bring in the money – even the station's manager is named ATM. Jeewan Saathi turns out to be a messy but highly profitable affair for everyone involved.
The Zeal for Unity initiative brought 12 filmmakers together – 6 from India, 6 from Pakistan – and gave them a platform to showcase their work. The results have been a series of incredibly fine films that give us the best in both the technical and creative arenas. In addition to Khaemae Mein Matt Jhankain and Jeewan Hathi, LIFF 2016 is also screening Toba Tek Singh as its closing film – and screened Bengali film Saari Raat last year. These films are all of such a high standard and represent each country's creativity and talent – they are all worth seeking out if you have the chance.