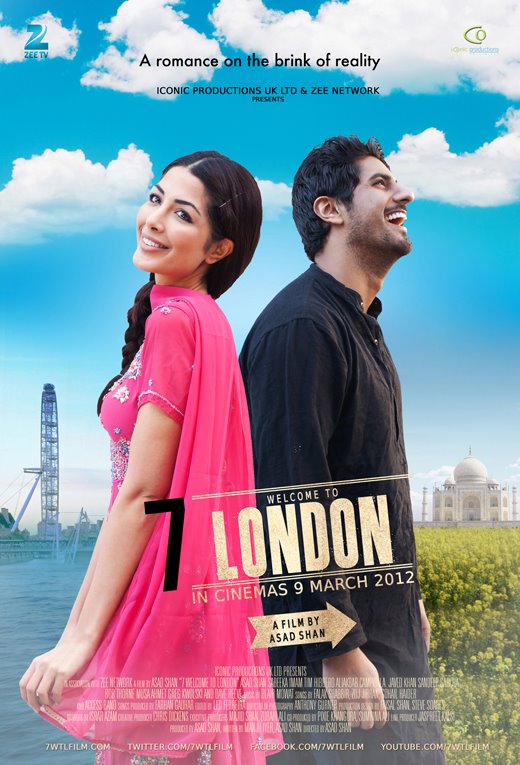 Iconic Productions is very honored and proud to be collaborating its first venture with the first digital channel and family favourite Zee TV.
Zee Network, in association with Iconic Productions, presents a crossover Bollywood – Brit-Asian movie, 7 Welcome To London which is releasing on 9th March.
The fast paced thriller centres around the struggles and hardships faced by a young immigrant from India, Jai, who feels that London will allow him to fulfill his dreams and aspirations. London is his most beautiful dream; he finds a friend on a council estate as well as love on the underground but one phone call changes his life forever. Jai is left trapped in a dark and dangerous world where only a jungle law exists.
The upcoming movie marks the debut of Zing's very own popular presenter Asad Shan, from UK based Bollywood show Brit's Bollywood. The talented British model-turned-actor is the leading man in the movie as well as its director. He calls out to his existing fan base, "The Brit's Bollywood and Zee Network audience is my family and I love being a part of their lives on the small screen. Zing has allowed me to grow as an artist and as I embark on a new stage in my life, I would like you to be part of that. So now with a lot of pleasure and love I would like to take our relationship further into the cinema halls with '7 Welcome to London' which releases on 9th March. I know you have been enjoying the trailers and the music videos from the film and I am hopeful that you will enjoy the film as well. Thank you for all your support over the years."
Archana Kanade, Zing Channel Head, UK "Zing is hugely supportive of UK talent and to see one of its own talented Brit-Asian members venture out into the exciting world of film-making is wonderful. Zing is passionate about showcasing all facets of Bollywood and with Brit's Bollywood, presented by the hip Asad, it strives to tailor Hindi cinema to UK Bollywood lovers, building a bridge between Bollywood and Britain. We hope its viewers will support Asad and go out to watch his thrilling movie whilst continuing to enjoy him on Brit's Bollywood."
7 Welcome To London is a grisly thriller crafted in a gritty manner to draw on contemporary UK issues. It brings homegrown UK talent to the forefront right from the cast to the entire film unit. Bafta and Oscar winning editor Chris Dickens is the creative producer for 7 Welcome To London and has seamlessly blended Bollywood with international film techniques.
Synopsis: Jai, a hard-working young Punjabi man from Delhi arrives in London, leaving behind his debt-ridden family, to fulfill his dream of a better future. Initially, luck shines on Jai. Whilst discovering London, he forms an unlikely friendship on a ghetto estate, and furthermore his life is injected with a rainbow when unexpectedly he finds love on the underground. But Jai's happiness is short-lived, and he is completely unprepared for what lies ahead. One phone call changes everything. Jai is left trapped in a dark and dangerous existence where only a jungle law exists. The hunt is on and he is running on quicksand…
For your chance to win a pair of tickets to this 'on the edge of your seat' romantic thriller, and for a chance to meet the charming Asad Shan, enter the 7 Welcome To London competition at www.zingtv.co.uk.
Catch a special interview of Asad on Brit's Bollywood, as he takes his viewers through his own ecstatic journey in film making with his debut, Sunday 4 March at 11:30am on Zing, Sky 789 and Freesat 509.
7 Welcome To London releases on Friday 9th March at cinemas across the UK.
In case you missed it here is the trailer for the film!
httpvh://youtu.be/-j_EqeRLrU8
Also be sure to check out the cool website for the film www.7WTLFILM.com