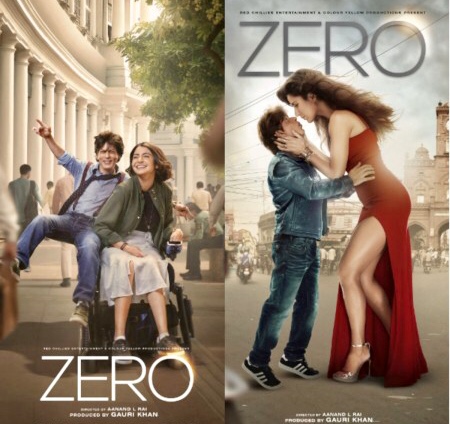 2018 has continued to see the role of women on screen change significantly and for audiences to confront current social issues to help get the conversation on these started. In Zero, Aanand L Rai confronts the issues of dwarfism and through powerful performances from Shah Rukh Khan, Anuskha Sharma and Katrina Kaif delivers a well-rounded look at this issue from all perspectives. Being the big end of year film cinemagoers have come to love from years of YRF and Dharma productions, it needs music directors who are both upcoming talents but also popular. Having completed albums for Dhadak and Thugs of Hindostan this year, Ajay-Atul certainly fit the bill, bringing a seven-song album with the usual Bollywood mixture of emotions.
The opening song of the album Mere Naam Tu. Abhay Jodhpurkar is backed by violins to his lilting and soft voice as he delivers a smooth rendition. The beat is provided by unchanging timpani and for the first part there is little deviation from the set path. Seemingly suddenly, there is an escalation of noise and beat and an addition of piano makes for a different sound. This is finally drowned out by a mixed chorus; whose language is unclear and so their purpose is too. The song goes from light but dull to confusing and noisy, which while it fits nicely into the visuals, doesn't work well as a song on its own.
Onto the fun song, we have Sukhwinder Singh and Divya Kumar delivering Issaqbaazi. Many will remember Shah Rukh's cameo appearance in Tubelight, a signal that he and Salman had patched things up and reforged their friendship. 'Issaqbaazi' is Salman doing the return favour, so this is a typical Salman Khan song. Traditional instruments create a beat to get the fingers clicking which later in the song breaks out into a club scene. On top of this fast but singularly paced beat are Divya Kumar, who holds the main melody, and Sukhwinder Singh who delivers his special style of fun. Keeps the interest and of course some fun visuals are to be had, but its unchanging nature is difficult to overcome.
Now it's time for the movie star (Katrina Kaif) to take centre stage in Husn Parcham. Of course, this is a dance number but being a representation of a modern Bollywood song, Ajay-Atul decided to add both Arabic and rap elements. There is also a large horn section that provides much of the rhythm to back Bhoomi Trivedi. The interesting twist is the rap element with Raja Kumari delivering a condensed 'Sheila Ki Jawani' style lyrical drumming, telling the boys that they can look, but they can't touch. If anything, its unfortunately short, especially for a song competing against 2018s other item songs.
Ann Bann is ironically a long-awaited return for Kunal Ganjawala after many years away from Bollywood. The reason its ironic is on such a happy occasion, he is singing a sad song about the character's feeling of temporary loss from his beloved. Backed by a piano, light dhol and violins, the background is as beautiful as should be expected from the music directors and Kunal is silky smooth in conveying the grief. The reverie created here continues till towards the end and electric guitar fires things up and there is a heavy use of a drum kit to punctuate a sharp ending. The unchanging nature of the song works in this case to create the necessary sadness in the audience and the ending implies more to come.
Since the audience is now in a sad mood, the album now cotinues down the path with Tanha Hua. This is a qawwali, a modernised version of a sajda or prayer. Thus, it's only sensible to have Jyoti Nooran and Rahat Fateh Ali Khan involved with Jyoti taking a lead in the song, indicating this comes from the girl's side. This also means Rahat is barely heard if not well understood during his limited parts. The modernisation gives it a background of faux Spanish classical with backing violins and harmonium and electric bass to give the bridges some life. Unchanging is again the word for this song overall, but as a sad song and as a song in the Sufi style this is a good thing in this case.
Romy is next to bring the listener's anger emotion to the forefront with the all Punjabi Heer Badnaam. Considering the title's closeness to 'Husn Parcham', these could be happy and sad versions of each other. However, this song itself is just another of the long line of Punjabi club beats that floods both the pop scene and has permeated Bollywood for the last 10 years. It could be said to be unchanging…
The final song is a classic remake. Duma Dam Mast Kalander has been made and remade so many times, it's hard to tell what the original is anymore. However, the commonality of themes in all versions of this song is to strength, brotherhood and loyalty which is what is emphasised in this version's rendition by Altamash Faridi. This song has festival mela with its traditional lyrics and presentation, but there is a great urgency in its sound which only seems to get a bit faster for a strong climax scene.
The end of year movie since 1994's Hum Aapke Hai Kaun or 95's Dilwale Dulhania Le Jayenge are always the most anticipated of the year as they are often big budget, super love stories with just enough in them to get an audience thinking about a particular issue. Generally, these are human stories with little action as they are more about 'real' people's emotions. From the musical standpoint, there is emotion throughout but nothing to really stir emotions, possibly so that the actors' performances are not over wrought. From the view of a super love story certainly the formula has been met but with Husn Parcham and Issaqbaazi standing out as the loudest of all the songs, the audience doesn't get a sense of that.