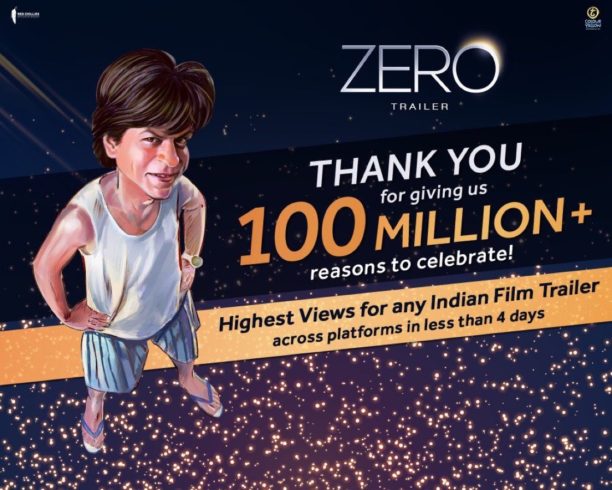 After the successful release of a teaser and first look posters, fans were eagerly awaiting the trailer of the Shah Rukh Khan, Katrina Kaif and Anushka Sharma starrer ZERO, which was launched on 2nd November at IMAX Wadala in Mumbai.
Fans from all around the world thronged to get a glimpse of their favourite stars, and to watch the highly anticipated trailer on the big screen. The fact that the trailer was launched on King Khan's birthday only added to the excitement of its release.
The trailer clocked in 54 million views within the first 24 hours, breaking the record for the most viewed Indian film trailer in 24 hours. The numbers continued climbing up on day two, raking in a total of 85 million views in 2 days across all platforms.
But as if this wasn't enough, by the fourth day the trailer hit 100 million views, breaking records for the highest number of views on any Indian film trailer in less than 96 hours.
With such astonishing numbers, the trailer is well on its way to make it to the list of the most-viewed movie trailers of all time.
The ZERO trailer is not just the most viewed, but also one of the most loved. Audiences on Facebook made their love for the film evident by grossing a million views and thumbs-ups alike in record time. The accomplishment was repeated on YouTube, making the trailer the fastest to reach a million likes.
Here's a quick checklist of some of the records the trailer now holds:
– 54 Million Views in 24 hours – Highest for any Indian film
– 85 Million Views in 48 hours – Highest for any Indian Film
– Fastest to 1 Million Views on Facebook
– Fastest to 1 Million likes in India
– Highest number of comments on any Indian movie trailer on YouTube
– Highest number of likes on any Indian movie trailer on YouTube
– 100M views in 4 days of release – Highest for any Indian movie trailer
This feat was made complete with #ZeroTrailer trending worldwide on Twitter. The trailer trended at number 1 on YouTube for days and is also the most viewed and commented Indian film trailer on YouTube.
In the trailer, Shah Rukh is seen trying to woo Anushka Sharma, a scientist who moves around in a customised wheelchair. Katrina Kaif, on the other hand, is a ravishing superstar who loves the bottle.
ZERO presents the story of Bauua, a vertically challenged man essayed by Shah Rukh Khan. Set against the backdrop of Meerut, ZERO presents a unique as well as rooted story.
Bringing back the super hit trio of Shah Rukh Khan, Katrina Kaif and Anushka Sharma, ZERO offers interesting performances with an unconventional storyline.
Produced by Gauri Khan, Red Chillies Entertainment and Colour Yellow Productions come together to bring the Aanand L Rai directorial ZERO in cinemas on 21st December 2018.
ICYMI