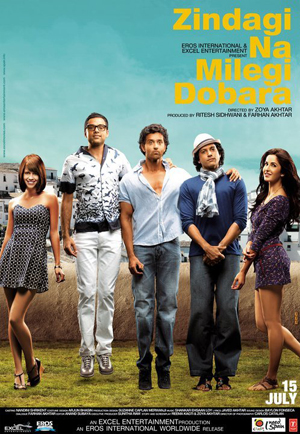 Expectations, hopes and excitement were sky high. I had done this before; gone to watch a film having convinced myself that I would love it, just by its credentials. Let's face it, Zoya Akhtar's Zindagi Na Milegi Dobara qualified as a potential success in so many departments: three handsome men, two lovely ladies, a road trip, an exotic location… It seemed so well-padded it had to resist failure. The only thing that needed to be added to this otherwise perfect list was the ability to strike a chord with the audience. Could perfection be hit head on by an audience that wanted more?
Zindagi Na Milegi Dobara is a story about three friends who comes together for one last road trip before one of them gives up on his bachelor status. Kabir (Abhay Deol) is all set to marry Natasha (Kalki) but, in true bachelor tradition, he and his friends, Arjun (Hrithik Roshan) and Imraan (Farhan Akhtar) organise a stag holiday to Spain which will see them reunite after a number of years. During the trip, the trio meet Laila (Katrina Kaif) who both Imraan and Arjun take an instant liking to and who goes on to bring a change to all of their lives. The trip sees the threesome take part in various sports, overcome old grudges and it also encourages them all to tackle their biggest fears individually.
It would be wrong to say that the film has a plot not seen before in Indian cinema. It would also be untruthful to state that, albeit with a recurring set of circumstances, it seeks to be something that it's not. The Spanish touch seems to do wonders for the treatment of the movie. The colourful settings and the picturesque locations make the story come to life. Zoya Akhtar's style seems to be stamped all over the vivid backgrounds and overall feel of the movie, especially if her directorial debut, Luck By Chance, is anything to go by. You can recognise and appreciate the somewhat subtle charm of the movie right from its first shot because of the romantic avatar and this is one thing the audience is sure to remember about Zindagi Na Milegi Dobara.
The casting of the film is also very much spot-on. Roshan, Akhtar and Deol seem to fit into their characters perfectly. The comical scenes are particularly effective and what seems to come through the most is the rapport the three must have shared with each other while shooting for the movie. Arjun's character is not immediately one that you would have placed Roshan in, but he plays him with much dedication and passion. It is refreshing to see him play a character who isn't instantly likeable, which is very much away from the norm for the actor. Akhtar's performance as Imraan can be described in just one word: effortless. His comical timing, his spontaneity and his very obvious natural talent in giving a minimalist performance with maximum after-effect is evident in this film. Deol's character, Kabir, is the one who takes the story forward. It is great to see Deol in such a role as he is by far one of Indian cinema's most underrated actors. One hopes his undervalued acting talent won't go unrecognised following this movie. Although the ladies, Kaif and Koechlin don't have as much exposure as the leading men in the movie, both do their respective roles justice. Kaif is very much a breath of fresh air in her role as Laila.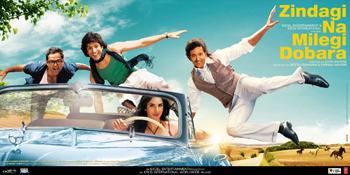 The performances and scenery is only made better with the soundtrack of the movie which was composed by Shankar-Ehsaan-Loy. The picturisations of the songs are wonderful and each song is given it's own flavour, which fits in with the overall theme of the movie as well as proving to good reflections on the individual characters. For example, 'Senorita' captures the very essence of the bachelor-party trip with Roshan, Akhtar and Deol not only seen to dance with a Spanish dancer, but they also lend their vocals to the celebration song. A special mention should also be given to the very sombre 'Khaabon Ke Parinday' which shows the enlightenment of Roshan's character, Arjun. 'Ik Junoon' is also given an extremely innovative visual treatment as it is filmed with cast at the Tomatina Festival.
To conclude, Zindagi Milegi Dobara is full of fun, frolics and friendship. If you're expecting a big romance, an item song with multiple changes of outfit or even a tear-jerking scene that gives you an excuse to take out those tissues, then you will be sadly disappointed. The film is made up of moments you'll always remember and funny scenes which will make you laugh even just by thought. The intermingling anecdotes within the grand scheme of things will also keep you entertained. The poetry recited by Farhan Akhtar and written by his father Javed Akhtar which accompanies the reflective scenes is also a highlight. Perhaps the best thing about Zindagi Na Milegi Dobara lies in its ability to sporadically switch between the serious and the hilarious without a second thought.
Although the movie isn't a fresh and entirely original concept, it very much leaves you wanting to let go of your inhibitions, throw away your doubts, and face your fears but, most of all, it makes you want to LIVE… because you only live once. Zindagi Na Milegi Dobara!