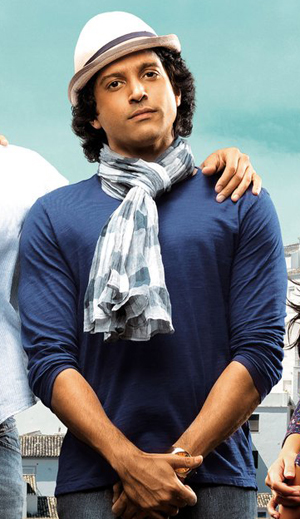 Farhan Akhtar is a man who wears many hats: director, writer, producer, singer, and actor. We have seen him with his director cap on for the fabulous films Dil Chahta Hai, Don and Lakshya, then he blew everyone away with his acting chops in Rock On!! and Luck By Chance. He is still doing the directing thing in a little film called Don 2, but up next is Zindagi Na Milegi Dobara where once again we will get to see Farhan, the actor/producer. This time his character is totally different from his previous roles because he is playing the funny man of a group of three in the upcoming film directed by Zoya Akhtar. ZNMD is a road trip through Spain and the travelers with Farhan on the road of self-discovery and adventure include Abhay Deol and Hrithik Roshan. During the three week bachelor trip, one of the friends is allowed to do a fantasy sport of his choice, and the other two must join in whether they like it or not. We got the chance to take a quick 10 minutes with Farhan before he was off on a road trip full of promotions. In this very fun interview he talks about the bond between the three guys, what adventure sport he loved best, and how playing his character changed him.
What was it about this role and this film that made you want to be a part of it?
For me, to start with, I think when I read the script I just felt it was a very exciting film, vibrant just on the script level. It resonated to me in terms of what the film was about and the message. It had a lot of humor in it; it had some great situations in which the friends get an opportunity to go do amazing adventure stuff. As an actor I had done three roles before this which were relatively serious and intense, and I felt this was a great opportunity for me to go out and do some comedy and just have a great laugh when doing a film. That's what made me say yes, as an actor. As a producer, I felt it was a really, really resonating and a very, very entertaining script.
Tell us about your character Imraan.
Imraan is a character who has certain issues that he doesn't like to deal with. He has layered himself with the robe of a humorist so to speak, where he just defers everything that happens in his life and just kind of puts it aside by laughing at it or you know just cracking a joke. To him, making people laugh is really important and being the center of attention is really important. He just likes being silly. He doesn't want anything to be serious. If he's being rude to someone it's because he just thinks it's fun. That's how he is, and that's how he's going to go through life. Of course, through all this humor and through all this you start recognizing that inside all of this there is a guy who is hiding something that is very sensitive and who is hiding something that is troubling him a lot. Through the film they eventually figure out what that is.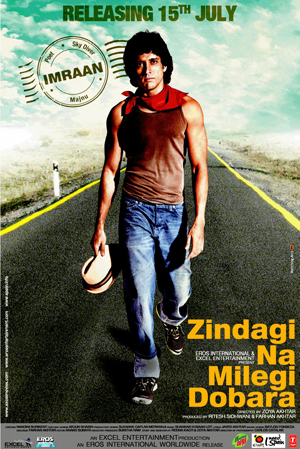 Was it difficult to have that undercurrent of vulnerability, but you had to play the joker too?
You know, honestly to me, I found performing Imran to be a lot simpler than playing most of the characters that I've done. When Zoya wrote it, she wrote it keeping me in mind and knowing what I am like. To me, Imran is a lot like what I am. I tend not to speak about things that trouble me and bother me. I just keep them inside. To me if somebody asked me 'what's wrong?' I'll probably end up saying something really funny as opposed to saying 'this is what the problem is!' She knows me really well and she kind of said, 'this is the perfect guy for you to play.' I want to thank her for giving me this role, which was a lot of fun. I also told her at the end of the film, 'thank you so much for letting me do this' because it actually was sort of cathartic; it did something to me. I felt that I should talk about stuff and I shouldn't keep things inside. Even if I have issues I should face them. So, it really did help me on a personal front as well. I started thinking things, about things, differently.
How was it working with Zoya on the film?
It actually doesn't feel very different to me to work with her because here we're always on some level in a work environment. We've collaborated before of course: she worked with me on Dil Chahta Hai, she worked with me on Lakshya, then I've worked with her on Luck by Chance. She's a very integral part of Excel Entertainment. She reads all the scripts that come in and we take her feedback on everything we are doing, so it doesn't feel like it's something new. It doesn't feel like, 'Oh, now I'm getting to work with Zoya!' because we are constantly working. It's great. I think she's a great writer. She's very good with writing well-rounded, well-defined characters. It is always enjoyable to get to play one of them. So for me, I look forward to hopefully working with her again.
So working with Hrithik and Abhay…
I've worked with Hrithik in the past and I know exactly what he's like on sets, which is very easy, very collaborative and very, very supportive of the director. He's a good influence on set. He's very professional. It's always nice. I always enjoy working with him even in the capacity of a director when I directed him in Lakshya. I had a great time.
With Abhay I didn't know what to expect. He was someone I was meeting pretty much for the first time in regard to this movie. We hung out a lot and spent a lot of time together. He's someone I got to know during the process of the making of the film. Again, he's a really good actor, very, very serious and sincere about what he does. He's a lot more moody than Hrithik and me (laughs) when he's on set, but he's very into his work. He wants the scene to be the best he possibly can. It was really nice; we had a great mix of people just wanting what's best for the film. It was a good environment to be in.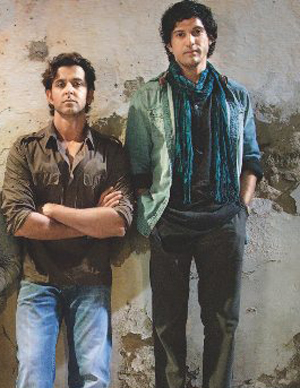 From what I have seen of the promos it really looks like you all bonded on set, even to the point that you were really having fun in the scenes, not just doing the scenes.
Yes, we did! There is a lot of stuff now in the film that kind of crept in there that were actually more private jokes between Hrithik, Abhay and me at the time than of the characters. If we had to laugh about something, if someone would say something off camera that has nothing to do with the film, like a little joke that's going with us on the side, that would enable the moment to become very real for everyone to break out into a fit of laugher. You know, it really helps spending time together before the film started. It helped a lot, actually.
Tell us about shooting the different adventure sports.
That was great! I've always enjoyed doing something adventurous as far as sport is concerned. It's something I'm excited about and I have been for a while. The skydiving aspect to the movie was something that was truly, truly special. I had gotten my license in 2007; I had done my course but had waited for three years for an opportunity to go skydive again. I kept telling myself, you know, I'll go next year, I'll go next year, I'll go next year; and I never went. The film gave me this wonderful opportunity to be working and skydiving at the same time, so it was a great place to be and a great space to be in. I did as many jumps that I possibly could.
You also had the diving sequences.
Oh yeah, we did! Abhay and me, that's actually first when we really, really hung out. We got an open water diving license together. We spent time and got to know each other. A lot of our conversations happened underwater. So, fortunately we couldn't hear each other, which helped us bond a lot more (laughs).
Favorite thing about the film?
The greatest thing about this film is that there is a lot of deeper meaning about friendship and about certain issues in your life that you get a glimpse of, but it doesn't happen in a preachy way. It happens more in action than it does in long pieces of dialog. And to me, that's what really special about the film: that nobody is talking at you and nobody is telling you that these are the things in life that you need to think about, and what you need to do. Everyone is kind of doing their own thing and having a great time while doing it, but circumstances bring them to a certain point where they have to deal with a certain kind of an issue. It's a very simple issue, it's nothing that's uncommon, like someone who is so consumed by work because he decided that 'by the age of 40 I want to have a bank balance that is so much' and just kind of puts blinders on to everything else in life. It's just simple things. It does this in a very non-preachy, kind of Zen, off hand kind of way, which is very, very special.
With a 'thank you, that was a lot of fun', Farhan was off to get ready for the six-city promotional road trip tour. You can see the three friends, plus Katrina Kaif and Kalki Koechlin and the fun they had when Zindagi Na Milegi Dobara drives into theaters on July 15th! We know we are going to be there!