Bollywood's oldest Heroine, Zohra Sehgal turned the glorious age of 101 a few days ago! Having been in Indian cinema for 66 years, Zohra has also been a choreographer, starting her career with famous choreographer, Uday Shankar (brother of legendary musician Ravi Shankar) in 1935 before moving on to do films in 1946. Zohra has also been the recipient of many coveted awards including the 'Padma Shri' in 1998, 'Padma Bhushan' in 2002 and most recently, the 'Padma Vibhushan' in 2010 – India's 2nd highest civilian honour! Zohra was also names 'Laadli of the Century' by the United Nations Population Fund Laadli Media Awards in 2008 and is often referred to as Bollywood's 'laadli' (darling).
Bollywood took to Twitter to express their appreciation and give birthday wishes to the lucky lady, as actress Divya Dutta (who worked with Sehgal in Veer-Zaara), tweeted "Happy birthday the ever graceful Zohra Sehgal. I had the honour of working with her in Veer-Zaara. Those naughty eyes! Big hug and respects" in honour of Sehgal's 101st birthday. Actor Viveck Vaswani tweeted, "Happy 101st birthday Zohra Sehgal! The only actress who has worked with Prithviraj and Ranbir Kapoor!" and playback singer Shreya Ghoshal retweeted "@tanuj_garg: Zohra Sehgal has turned 101" #HappyBirthdayZohraSehgal! She is just a year older than our film industry. #100yearsOfBollywood"
For her 100th birthday, Actor Vivek Oberoi also tweeted "Happy birthday 2the wonderful actress whose smile & grace has lit our screens for over 60yrs, Zohra Sehgal celebrating her 100th bday today!" and she was even given a mention on Yash Raj Films' Twitter "Happy 100th Birthday to the spunky and witty Zohra Sehgal". Dia Mirza also tweeted "100th Birthday of the Grand Lady of Indian theatre and cinema Zohra Sehgal! What a journey!!! And what a Lady! #Salute #HappyBirthdayZohraji"
Here's Zohra celebrating her 100th birthday with a bang!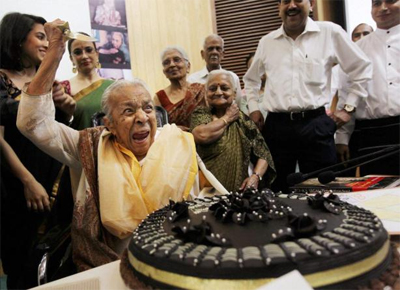 Zohra is remembered mostly for her roles in acting, playing the grandmother in recent years (Diwale Dulhania Le Jayenge, Dil Se…, Hum Dil De Chuke Sanam, Bend It Like Beckham, Kabhie Khushi Kabhi Gham and Saawariya to name a few!).
Her life has been quite extraordinary; she trained with Pritviraj Kapoor for 14 years, she staged plays in a jail in Ferozpore, moved to Delhi from Bombay, became the director of the dramatic arts 'Natya Academy', married painter, dancer and scientist Kameshwar Sehgal in 1942, did the choreography for Raj Kapoor's dream sequence in his film Awaara and later on moved to London in 1959 and all at the age of 47! She later appeared on the BBC's The Rescue of Pluffles and hosted 26 episodes of the BBC's show Padosi between 1964 and 1977.
In London, Zohra got her break as an actress in films, and was signed by Merchant Ivory Productions. She came in The Courtesans of Bombay in 1982 and went on to star in The Raj Quartet, The Jewel in the Crown, Tandoori Nights and My Beautiful Laundrette. She later returned to India in the 1990s performed poetry for the first time at a memorial of Uday Shankar in 1983 and performed poetry at various other occasions, including at her 'An Evening With Zohra' event in Pakistan.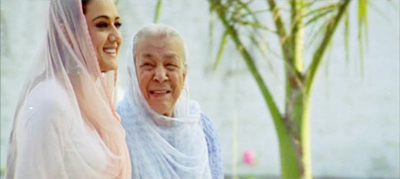 When asked by director Mahesh Bhatt (his wife is a close friend of Sehgal), "What is the emotion you feel when you look back on your life?" Zohra replied, "Immense gratitude, I can still hear you, I can still taste my food and walk on my own feet.'
We wish Zohra Sehgal all the best for the future and hope that she will continue to light up our cinema screens with her infectious laughter and wonderful acting!