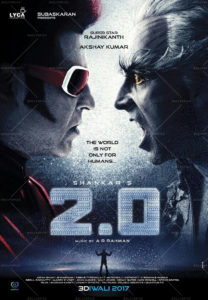 Among writers and particularly science fiction writers, Issac Asimov is one of the best-known people in his genre. His seminal work Foundation extended from its original trilogy to 7 books and spun off into a separate trilogy called the Robot series. In this work Asimov lays down the 3 laws of robotics and most importantly the zeroth law which the robot central to the story learns for itself. So powerful is the series that many have made movie adaptations on these novels. The latest of these is Rajnikant's Enthiran, which having been a success overnight with Superstar and Aishwarya Rai Bachchan in the lead roles, has taken on a new part in 2.0 with the addition of Akshay Kumar in a villain's role and Amy Jackson replacing Aishwarya. Due to its high-octane action-packed nature, there isn't much time allocated for songs, thus AR Rahman has 3 songs to dazzle with.
Nanhi Si Jaan is a collaborative effort between Kailash Kher, A.R. Ameen and Suzanne D'Mello. A mysterious choral opening, heartbeat paced drums, sticks and bass gives this song the eerie feeling that listeners are unlikely to shake off by the end of the song. Kailash sings as if it was one of his private albums, a mixture of light classical and listening ease with Suzanne D'Mello continuing the almost haunting rhythms in the background. AR Rahman has gone for disjointed here, similar in style to some of the songs from Mom, to the point that the beat is obviously recorded separately to Kailash's distinctive voice. A.R. Ameen pitches in to break things up a bit, but audiences will be left with a mixture of beauty and mystery.
The question for listeners of the next song Mechanical Sundariye is could you ever fall in love with an AI? If yes, then this is the theme song for you. This song brings computing to the musical world in a way that has not been widely done before: in the lyrics. Armaan Malik sings for humans while Shashaa Tirupati gets a reverb and echo effect for the sake of sounding more like an AI. The lyrics are obvious but technical and are given a slow club beat that could easily be calling for a remix. The song itself has the freedom of a song like Fanaa in the bridges but slows down for some 'steamy' dance floor sounds.
The last song in this uncharacteristically short Rahman album is the title song Rakshassi. Blaaze, Kailash Kher and Nakash Aziz collaborate on a thumping beat. Surely this is the perfect preface for the technical fight ahead. A driving beat is added to with clapping and the recorded voices are played with and remixed gently to keep the edge to this piece of music. However, the biggest problem for this song is the Hindi language. If listened to in its native Tamil this song feels more alive and genuinely gets heads moving even if the language is not familiar.
2.0 is not strictly Asimov's story. It takes the characters of Asimov's original and pits them against a fantastical creature in a technology vs magic action drama. In this case the music plays a very different role to normal, as it's got to be heavy to stand out and keep up the pace of the rest of the movie but at the same time give the cinemagoer a break from screaming for the hero as he takes on his famous villain. AR Rahman is genius personified in musical terms but with only 3 songs, doesn't have enough scope to shine here. The songs themselves are so heavily disjointed that its hard to find a purpose within them and sounding like past works doesn't help them stand out. Topping that off is that they don't ever really get going as they don't have Rahman's magical touch of making extraordinary from the simple and every day. Each singer is well chosen for the needs of the song, but none deliver an impressive performance even for AR Rahman which is very surprising.