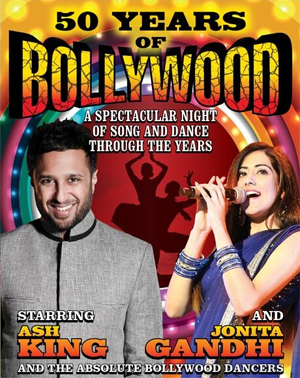 Last Sunday, the audience of London had the opportunity to experience 50 Years of Bollywood, with Bollywood star singers Ash King and Jonita Gandhi as its biggest attraction.
The show, conceived by Absolute Bollywood Dance Company, promised to be an all-dancing, all-singing outing, but the final result turned out to be rather irregular.
Halfway between a concert and a musical, the show had a host (Terry Mardi) who introduced the different segments, but the show also adopted the style of a musical, as it follows the story of Krishna and his search for a suitable bride. The plot is extremely clichéd and unnecessary, and it eventually fades to the point where the spectator even forgets about it.
Moving onto the actual performances, 50 Years of Bollywood offers a colourful and enjoyable spectacle, but of an irregular quality. The dance ensemble has visibly worked hard to put together a show in which they dance to the tunes of over 80 songs, and that includes numerous changes of clothes, which sadly prompted some transition problems and few late entries to the stage.
As for the stars of the night, Jonita Gandhi and Ash King showed much of their talent, although some technical difficulties and the excessive volume of the music prevented the audience from fully enjoying it. The singers performed a wide range of songs, from classical tunes to the latest hits, but for a show of almost three hours their time onstage felt rather scarce, while the show relied on recorded music for much of the time. The long list of songs to perform also led the singers to depend on a screen to read the lyrics, which took away much spontaneity and made the show look like a high-profile karaoke.
50 Years of Bollywood was an enjoyable show. Its organisers have known how to take advantage of Bollywood's popularity, but it would have been desirable that they could offer a more refined final product.