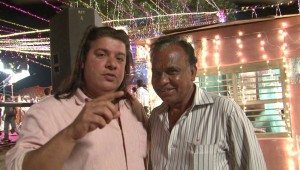 We have some cool scoop just for you about the upcoming remake of Himmatwala! A lot of people worked behind the scenes to make the 1983 Himmatwala a superhit. And there is one man who still continues to shine the light on lead actors Ajay Devgn and Tamannaah in Sajid Khan's Himmatwala even after 30 years. Narayana Dada, who is a spot boy in Sajid Khan's remake, began his career by being a spot in the original 1983 version. See we told you it was some cool trivia!
When asked about Narayana Dada, Sajid said, "He was recruited by the Hyderabad unit of my team. I had no clue about his connection with the film, until one day he walked up to me and said, 'You are doing a good thing by remaking this film. I was a part of the original.' I was left moist-eyed by his earnestness. To me he was a celebrity for the rest of the schedule."
A source close to the team said, "Whenever we would have some free time, Narayana Dada would talk about the stories and the incidents which happened during 1983 making of Himmatwala."
Himmatwala is directed by blockbuster director Sajid Khan, starring Ajay Devgn and Tammanah.
Presented by UTV Motion Pictures and Pooja Entertainment, the film is produced by Ronnie Screwala and Vashu Bhagnani and releases in the UK and Worldwide on 29th March 2013.