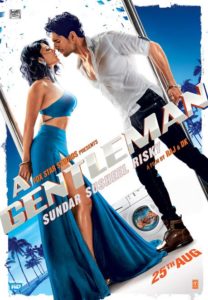 Directed by Raj and DK, the upcoming film, A Gentleman, stars Siddarth Malhotra in a double role, alongside Jacqueline Fernandez. The comedy/action flick, slated to release on 25th August, is supposed to be a sequel to the 2014 release Bang Bang and features the tagline Sundar, Susheel, Risky. It's the story of a sundar & susheel Gaurav content with his 'same shit different day' routine and dreaming about settling down with the girl of his dreams, Kavya and having his 'happily ever after.' Kavya on the other hand prefers someone more risky and adventurous — perhaps someone more like Rishi! When a case of mistaken identity rocks Gaurav's life, he stands to lose everything he has worked so hard for! What follows next is a roller-coaster ride, complete with action, romance and laughter.
The soundtrack for the film has been composed by musical duo Sachin-Jigar, and features lyrics by Priya Saraiya and Vayu. There are a total of 5 tracks on the album, and intersestingly all of the tracks are duets.
The first song from the soundtrack is the aptly titled, popular number Disco Disco, which features the vocals of singer Benny Dayal who is known for his peppy numbers and YouTube singing sensation Shirley Setia. I do believe this is the first time that we are hearing this vocal pairing, and their voices work well together. It is wonderful to see the Bollywood music industry welcoming more new talents. The lyrics of the song are simple yet catchy 'Dil Disco Disco bole saari raat sajana' while the groovy beats are sure to uplift your mood. Disco Disco gives ultimate summer vibes, and is a great choice as the first track from the album!
We are in an era of Bollywood music, where we are constantly hearing new versions of old classics, and Baat Ban Jaaye follows that trend. However, let me tell you just how refreshing it is to hear this track sound original, it bears no resemblance to the classic one from Qurbani! Again, this track also has those summer vibes, and its picturisation reflects that mood too. The song features newcomer Siddarth Basrur who makes a mark with his vocals, opposite the very talented Priya Saraiya who sings for Jacqueline. Sachin-Jigar have excelled in this genre of upbeat tracks (their previous hits include 'Gulaabi' from Shudh Desi Romance and 'Dance Basanti' from Ungli), and 'Baat Ban Jaaye' adds yet another feather in their cap.
Continuing the upbeat vibe, we have Chandralekha next on the list, which is mostly dominated by male vocals by Vishal Dadlani, but also features Jonita Gandhi. There is something about this song which reminds me of the music from Bluffmaster (Abhishek Bachchan). The lyrics are a blend of English and Hindi, and this is the first time we are seeing this on the album. It would have been great if we got to hear Jonita a bit more on this track. I don't think it is as strong as the first two tracks of the album.
Things seem to slow down a bit as we reach the fourth track of the album Laagi Na Choote. Everyone's favourite Arijit Singh and Shreya Ghoshal take charge of the vocals. What is so interesting is that they sing in different styles as Shreya takes the lower octaves, while Arijit sings the higher octave. A melodious number, 'Laagi Na Choote' is sure to become popular with listeners who love pure romantic Bollywood songs. Sadly, this track does not bring anything new to the romantic genre.
The last track of the album is a sleek one which features 4 singers, and its title almost gives a 90's vibe, yet its sound doesn't! I'd say Bandook Meri Laila is the surprise track of the album. The song features Ash King (I Love You, Bang Bang, Te Amo) on the vocals, along with Jigar Saraiya, rapper Raftaar and even the film's hero Siddarth Malhotra makes an appearance on the song. The video accompanying the song is very stylishly shot and this track completes the album on a high note.
Overall, I would say that if you are looking for a Bollywood soundtrack that is upbeat with summer vibes then A Gentleman is definitely the one for you! It is an easy, breezy, super stylish summer album. My top picks: 'Disco Disco', 'Baat Ban Jaaye' and 'Bandook Meri Laila'.