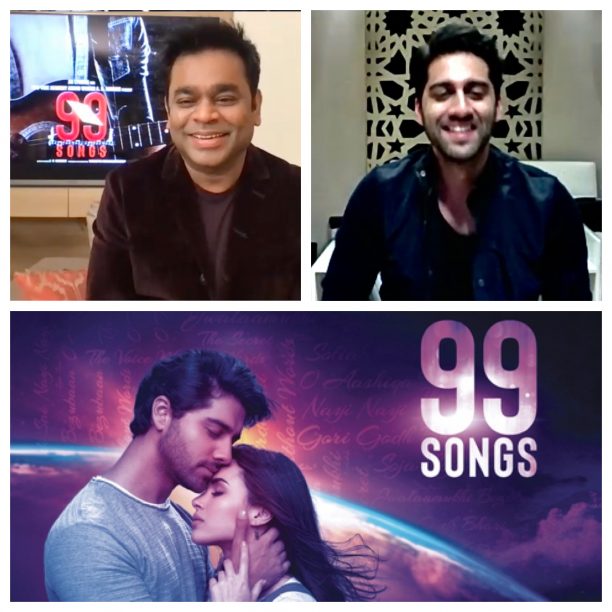 99 Songs, which releases in theatres on April 16th, is the debut of the Academy and Grammy award winner A.R. Rahman as writer and producer. Directed by Vishwesh Krishnamoorthy, the film introduces actor Ehan Bhat in the lead role. It also is the debut of actress Edlisy Vargas and features Tenzin Dalha.
99 Songs is the journey of a young man named Jay whose life centres around his two great loves: music and his girlfriend Sofia. According to Mr. Rahman, "99 Songs is about a musician trying to make it against the odds and his struggle between the old world and the new world. The antidote is music." 99 Songs is Jay's quest to understand his purpose and passion, to overcome the challenges that stand between him and everything he cares about. It is a journey of heartbreak and redemption, of loss and faith. 99 Songs is an ode to the timeless power of love and music. It's the embodiment of the belief that one song can and will change the world.
Stacey had the honour of talking with both A.R. Rahman and the star Ehan Bhat about the musical drama 99 Songs in a video interview over Zoom. It was an experience that was amazing, phenomenal, outstanding and well you get the idea…!
You have to watch the full video interview, which is below, to see and hear how incredible and open they were but here are some sneak peeks.
Talking about the spark for the story of 99 songs, Mr. Rahman said that it was life and light that inspired him to write what he called a fairytale. He gives much more in-depth detail but we don't want to spoil it since it is such a marvelous answer!
We also asked the actor, 'you are approached to star in a new film that has been written by Mr. A.R. Rahman…', so what was his reaction? Bhat replied that he is still pinching himself that it is real. Adding, it was a difficult character to play and a difficult character to let go of once the last shot was taken.
I had to ask about a line from the film: "Music is the only magic left in the world", which really touched me. Mr. Rahman explained that he feels that this is a truth and even more inspiring, he said, that music is hope. You have to hear the rest of Mr. Rahman's beautiful, moving answer as well as Mr. Bhat's heartfelt story about his reaction to a song from the film.
Mr. Rahman says his purpose with 99 Songs was to create something different and new for audiences to experience on the big screen. Calling it a visual treat, Mr. Bhat added that he really feels that this piece of art needs to be out in the world.
I don't want to spoil the interview too much so these are just hints of the wonderful conversation that we had about all things 99 Songs. There is so much more, including insight into Ehan's preparation for becoming Jay, Mr. Rahman on the experience of making the film and how he feels it came out in the end plus so much more.
I have to thank Ehan Bhat for his incredible answers that gave us insight into what it was like on his first film. To Mr. A.R. Rahman, I am so incredibly honoured and thankful for your in-depth, inspiring and brilliant answers. It was such a joy to speak with you both about 99 songs.
99 Songs will release in Hindi, Tamil, and Telugu on 16th April 2021. Presented by Jio Studios, the film is produced by A.R. Rahman's production company YM Movies and co-produced by Ideal Entertainment
I cannot wait to experience 99 Songs when it releases on the big screen!
Mr. Rahman composed the tracks as well and you can read our rave review here.