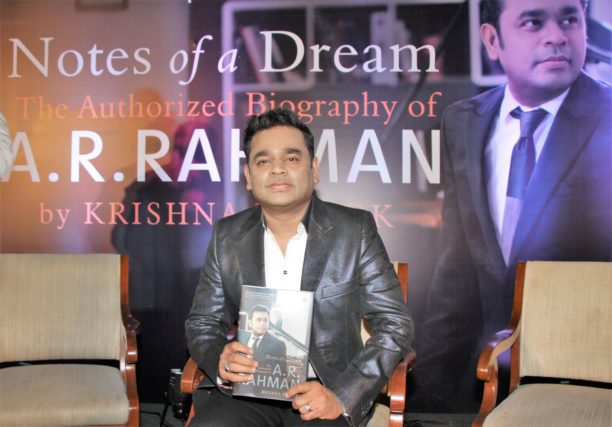 They say that music has an effect on the way we think and live! It has the power to stir human emotions and is known to have therapeutic ability. Our country has experienced many great creators of music in the past few decades but one of them has taken the world by storm. He is none other than, Allah Rakha Rahman – the Musical Storm as he is better known as. The Oscar Winning composer and music producer launched his first ever biography, 'Notes of a Dream: The Authorized Biography of A.R. Rahman' in association with Landmark and Penguin Random House on 3rd November. While all of us know A.R. Rahman for the music that he creates, Rahman's autobiography will give us a glimpse into the life of the man behind the music.
Two giants from the book industry, Landmark and Penguin Random Book House joined hands to successfully celebrate the launch of the legend's biography. Rahman's biography written by author Krishna Trilok brings out his soul more than it focuses on the dizzying heights of stardom he has reached and multiple accolades. Krishna Trilok takes us to those depths of Rahman's life that are yet to be discovered. Trilok, in his book, speaks about the man behind the music and the music that made the man. From insightful interviews, to his projects in progress, his best projects so far and the upcoming ones, to marriage and family, kids, the chaos, the calm, this book says it all.
Commenting on the launch of 'Notes of a Dream: The Authorized Biography of A. R. Rahman', the music legend, A.R Rahman said, "'Notes of a Dream' has been a journey for me that took me to those corners of my life which have remained candid for a long time. The insightful conversations with Mr. Krishna Trilok have unravelled parts of my creative and personal life which are not known to many. I am humbled by the people who have showered their love and prayers on me by loving my work. Nothing could be possible without their acceptance. Hope this book creates a sense of positivity, perseverance, and love among the readers. It is an uplifting and balancing act of words put together in soothing sentences by Mr. Trilok."
Expressing his happiness on his association with A.R. Rahman for his new book, Author, Krishna Trilok said, "It was a truly magical journey as an author to be able to tell the story of Mr. Rahman. Hearing this legend talk about so many parts of his professional and personal life, his way of looking at the world and the universe, the future, was a song in itself. This journey of making it happen was nothing short of a dream."
Landmark and Penguin Random house brought in elements that resonated with Rahman for a larger than life launch of 'Notes of a Dream: The Authorized Biography of A.R. Rahman' at Taj Lands End on 3rd November.