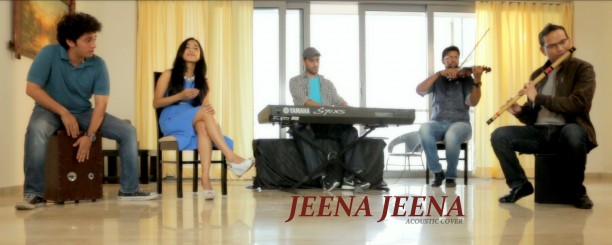 Renowned Indian-American composer, Aakash Gandhi, has teamed up with the popular Indo-Canadian vocalist, Shweta Subram, in their first ever collaboration. This new release is an acoustic cover of the recent Bollywood hit, 'Jeena Jeena', sung by Atif Aslam from the latest blockbuster, Badlapur. Aakash's rendition with Shweta is nothing short of musical nirvana!
Along with Aakash and Shweta, the cover of Jeena Jeena features the talented Sahil Khan on flute, accomplished Sandeep Thakur on violin and the gifted Rupak Dhamankar on percussion. The composition of Aakash eloquently blends Shweta's vocals with the flute and violin to mesmerize us from the first note onwards. Shweta, who is classically trained, adds in pleasant nuances to vocally differentiate the song from the original. Final mixing and mastering was performed by Francisco Nicholson The video for this release has been shot tastefully and harmoniously sets the mood of the song.
Aakash Gandhi is the founder of 88KeysToEuphoria who quickly became noticed for his signature covers of popular Bollywood songs. This ultimately landed him as YouTube's most subscribed Indian musician, with tens of millions of views. Aakash is an inspiration to many young musicians. Shweta Subram has brought Indian music to the mainstream North American audience through her collaboration with The Piano Guys (which has crossed 10 million views and Shweta is currently touring with The Piano Guys including a performance at the esteemed Carnegie Hall). In addition, she has lent her voice for 'Dil-e-Nadaan' with Ayushmann Khurrana for Hawaizaada, performed at the IIFA Awards with Salim-Sulaiman, featured with Shankar Tucker for 'Mere Saajan Sun Sun', and has recently released a tribute to evolution of Bollywood music with a phenomenal response. It's great to see Aakash and Shweta team up to bring forward this masterpiece.
Check out 'Jeena Jeena' – Badlapur (Acoustic Cover) by Aakash Gandhi featuring Shweta Subram.