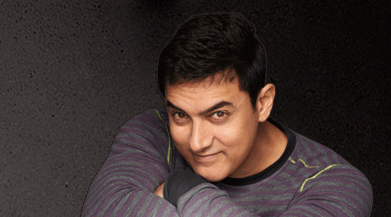 This June, &pictures, India's first interactive television movie channel, known to air path-breaking content and bringing viewers closer to their favourite stars, is taking a step further by releasing Aamir Khan's first unreleased movie on television. The actor known to be a perfectionist in every aspect is all set to showcase his only unreleased film on Sunday, June 8, 2014 at 8:00pm.
&pictures is a reflection of the subtle evolution of movies and movie viewing experience in India, and its positioning revolves around two keywords- interactivity and engagement. Staying true to its positioning, the channel is engaging with its audiences through Twitter (https://twitter.com/AndPicturesIN). Fans will get a chance to post tweets using specially created hashtags for the day and interact with Aamir Khan and Karan Johar. &pictures along with Twitter will also set up a 'Vine Mirror'. The 'Vine Mirror' will help take a video with the help of just one push button which will then be uploaded on Vine from time to time while at the studio
On this occasion Mr. Akash Chawla, ZEEL Marketing Head, National Channels, said, "We at &pictures always look for interesting innovations and integrations in making sure that we fulfil our promise of bringing our viewers closer to their favourite stars. We have invited fans to ask questions via #AAMIRANDYOU which will allow fans to come up close and interact with Aamir Khan and Karan Johar while watching his unreleased film this Sunday. We are extremely excited and look forward to creating a trend with such campaigns like no one else."
Collaborating with &pictures, Rishi Jaitly, India Market Director, Twitter said, "Twitter is the second screen of choice for viewers globally as they can interact with their favourite stars in real time and participate in live and public conversation about their favourite TV shows. During this particular broadcast, movie fans can watch with Aamir Khan and Karan Johar by engaging with them in real-time conversation on Twitter and catch a glimpse of behind the scenes on the sets of &pictures through six second Vine videos shared on Twitter and Vine. We are extremely happy to support &pictures in their initiative to get closer to their audience by delighting them with #OnlyOnTwitter moments ."
Interact with Aamir with these Twitter activities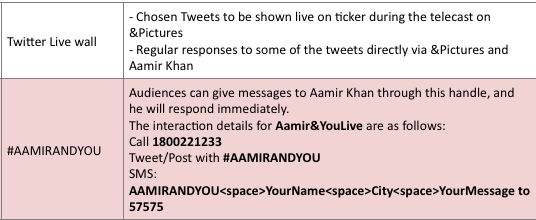 Getting back to Aamir, did you know there's one film of his which hasn't released yet? Surprised? This movie is really close to Aamir's heart and he wants all of you to see it. Tune in to &Pictures on Sunday, 8th June at 8 PM and watch Aamir's only unreleased film!