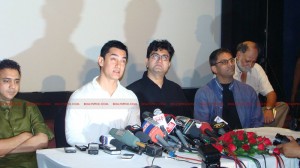 There's a reason Aamir Khan is known as Mr. Perfectionist. He gives his 100% to everything he undertakes which is why his first television show, Satyamev Jayate, which took a couple of years to be out for the audience, has already created enough buzz. Aamir had the theme song of the show launched recently and the viewers already seem to love it.
Written by Prasoon Joshi and composed by Ram Sampath (of Delhi Belly fame), this video has been shot by Ram Madhvani and showcases Aamir visiting different parts of the country and connecting with the people. This song is unique in the sense that it is a love song for the country and it was Aamir's idea that it should be so. He said, "Earlier, we were planning to compose a national song or like one anthem. Later, I realized, why am I doing this show? I have love in my heart for my country, like each Indian who loves their country. Then we went with a romantic song. We thought, it should be a love song that reflects the love for my country and relate with each Indian." There will be songs for each episode composed by Ram and written not only by Prasoon but some other lyricists as well.
Aamir refrained from saying much about the show saying he wanted to keep the element of surprise but he did mention that the show is very close to his heart and it's a way to connect with people. "I am not attempting to change anybody's life. I don't have the strength to change anyone's life. When I speak about change, it's about changing myself. I am not interested in changing the world. Who am I to change anyone's life? I can only connect to them emotionally and empathize," he clarified.
An interesting fact is that this show will be telecast on not only a private channel (Star Plus) but the national channel DD1 as well. That's not all. The show will be dubbed and showcased in Telugu, Tamil, Malayalam, Kannada, Marathi and Bengali (Aamir said he had no qualms with his voice being  dubbed) and will be broadcast on Sundays 11 am. "I wanted to telecast my show on Sunday morning. I want each family to watch the show and connect with it. We have watched Ramayana and Mahabarata and it used to come on Sunday morning. The shows created a different atmosphere. I am not scared of the saas or bahus. My thought was Bharat jodo abhiyaan," said Aamir.
The show will start from May 6. We love the theme song of Satyamev Jayate and hope the show is as touching too.
httpvh://www.youtube.com/watch?v=MXg6Usdjl5c