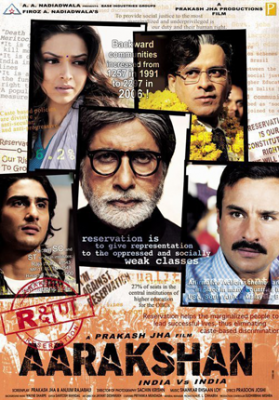 After the roaring success of political thriller Rajneeti, Prakash Jha is back again with Aarakshan, a socio-political drama that addresses the controversial issue of caste-based reservations in Indian educational institutions. But more on that in the movie review, let us focus on the music of Aarkshan for now.
Shankar-Eshaan-Loy ("SEL"), fresh from their success of Zindagi Na Milengi Dobara are at the helm of the Aarakshan's original soundtrack while Prasoon Joshi (Rang De Basanti, Taare Zameen Par and Ghajini) has penned the lyrics. The soundtrack features the vocal talents of Mohit Chauhan (Masakali – Delhi 6), Shreya Ghosal (Bahara – I Hate Luv Stories), Mahalaxmi Iyer (Laungda Lashkara – Patiala House), Raman Mahadevan (Sinbad the Sailor/Tum Ho To – Rock On!), Shankar Mahadevan (Desi Girl – Dostana) and classical singer Pandit Channulal Mishra.
Aarakshan stars Amitabh Bachchan, Saif Ali Khan, Deepika Padukone, Pratik Babbar and Manoj Bajpai. Reserve your seats. Aarakshan hits cinema screens 12 August 2011.
The soundtrack commences with Aacha Lagta Hai, a cute duet between Mohit Chauhan and Shreya Ghosal with additional vocals courtesy of Newman Pinto. What makes this track beautiful, apart from the great rapport between Mohit and Shreya is Prasoon's lyrics. It is a sweet mock argument between poetic expression and frustration with poetic expression. The lyrics are Hindi of course, with English words cleverly or rather, strategically inserted to give the song wit and charm. It is a short and sweet number that will get your feet tapping to its tune in no time.
Next up is Mauka, a spirited desi number sung by Raman Mahadevan, Mahalaxmi Iyer, Gaurav Gupta, Tarun Sagar and Rehan. SEL have composed a track with a myriad of sounds that come together triumphantly. Once again, Prasoon Joshi pens lyrics with great wit and charm. Like the previous track, the clever placement of English words not only creates an intriguing wordplay but also effortlessly moves the narrative of the song forward. My personal favourite is 'sabko do shower phir snan dekhna…' The song is about equality, in particular giving equal opportunities to everyone and not stunting natural talent/hard work at the expense of illogic regulations. However, Joshi presents it in a fun and happy-go-lucky manner, devoid of preachy-ness.
Mauka also appears as a remix (Abhijit Vagnani) but it cannot surpass SEL's brilliant composition. That being said, it's not a bad remix. It simply does not prove to be a great alternative to the original.
The soundtrack takes a sombre turn with Kaun is Dor. This classical track is co-composed as well as written by Prasoon Joshi. Lyrics may be lost on people who do not have a firm grasp of Hindi but even that cannot stop you from admiring this wonderful track. Pandit Misra is undoubtedly in his element. He is well assisted by Shreya Ghosal whose musical academics shine brighter than ever in this song.  Pandit Misra repeats the track later as a solo under the title Saans Albeli. Needless to say, both versions are incomparable but Ghosal enthusiasts will definitely prefer the first. 'Kaun is Dor/Saans Albeli' is lyrically, musically and vocally potent and is definitely on its way to become a classical masterpiece for the new ages.
The soundtrack ends with Roshnee, an uplifting and inspirational number, which is as bright as its title suggests. Shankar Mahadevan gets behind the mike to give voice to Prasoon's well-penned lyrics. Like Mauka, the track is also about equality and how barriers should be dismantled to give everyone the right to prosper. Naturally, the message is beautifully shrouded in Prasoon's metaphors about roshnee (light) and everyone's entitlement to be enlightened by it.
In summary, Aarakshan has a brilliant soundtrack with an astounding lyrical quality. Prasoon has an innate ability to write songs of different genre with as much poetic appeal as mass appeal. SEL has given us an array of soundtracks since their debut that affirms that this trio cannot be put in a box. Mission Kashmir, Bunty Aur Babli, Rock On!, My Name is Khan, Dil Chahta Hai, Taare Zameen Par, Zindagi Na Milengi Dobara  and now Aarakshan are all evidence of their versatility to compose for any subject, any issue. Aacha Lagta Hai, Kaun Si Dor and Roshnee are definitely the winning numbers of the soundtrack. That being said, Mauka is a close runner up.
In short, make no reservations. Give Aarakshan a go.