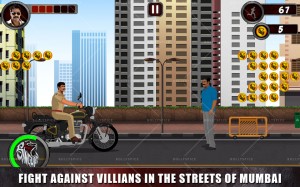 'Aata Majhi Satakli', that's right you'll be hearing a lot of it alongside ferocious lions roaring while you play supercop 'Bajirao Singham' with two exciting games that have been launched to enthrall gamers. At one moment you could be riding a sports car on a high speed action packed mobile racing game and in the next you could be in an exciting and thrilling running chase behind villains on the streets of Mumbai. The two games are based on the most anticipated movie of this year and it sure won't disappoint you.
On the running action thriller, Singham Returns – The Game, players can test their reflexes and collect coins as they jump, kick enemies and wield the famous Singham belt. The game features five stunning and beautiful environments of Mumbai City. Your villains have no chance as the fearless Singham unleashes his rage and hops on a police bullet chasing down his enemies. The game has been localized into Hindi, Tamil, Telugu, Kannada so players across India can enjoy the full gaming experience in their vernacular.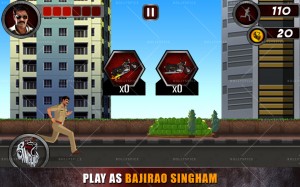 Reliance Games is also excited with their partnership with Roosh Interactive for Singham Returns – TakeDown. This 3D racing game pops open a real map based on your phones geo-location and plots in other players playing the game awaiting a challenge. A selection of rides from exotic sport cars to even a military grade tank makes you feel indestructible.
"Our vision for India has been to launch a bouquet of games that appeals to the diverse tastes of Indian mobile gaming audiences. Singham Returns presents the perfect opportunity to develop exciting games around a hugely popular movie IP that has captured the imagination of Indian fans worldwide. Gamers can now partake in the same excitement and energy as Bajirao Singham while playing on their mobile devices" said Manish Agarwal, CEO of Reliance Games
Deepak Ali, CEO of Roosh Interactive said "It has been a pleasure to partner with Reliance Games for Singham Returns – TakeDown and we look forward to many such associations in the future to launch exciting gaming titles in India"
Celebrate this Independence Day by downloading these thrilling games and unleash the inner lion in you!