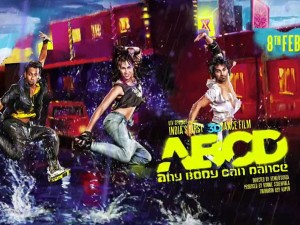 Having grown up with dance reality series, Boogie Woogie being the first, harboring a penchant for dance and ensuring I've caught every dance flick that's ever been made, the not-so successful history with Bollywood dance flicks (remember Chance Pe Dance) had made me very wary of reviewing ABCD – AnyBody Can Dance. Being a loyal audience of 'So you think you can dance' and the 'Step Up' series, although not the biggest fan of the latter, I usually felt that we lacked the finesse that was required of western routines. With ABCD I had two major apprehensions – How much originality would Remo be able to introduce in dance routines that haven't been done before and secondly having keenly followed the telecasted dance performances of the films protagonists, Dharmesh, Salman, Lauren, would their inexperience in acting cause hiccups in matching the standards set by its Hollywood contemporary?
At the heart of the story are smug dance studio owner Jehangir (Kay Kay) who swears by attitude and sell-out, nursing a morals clash with Vishnu (Prabhu Deva) who believes humility and hardwork conquers it all. Two warring groups of dancers, rich kids from the formers dance academy v/s slum kids who thrive on talent, aiming for the winnings of a big-ticket dance competition.
On one end at the helm, holding strong the directors seat is Remo, the finest choreographers around, and then there is Prabhudeva who needs no endorsement whatsoever where dance is concerned. The ensemble cast each sparkle as much individually but when they come together as a group; their energy is infectious and do a marvelous job at bringing Remo's vision to life. Although the same can't be said of their acting chops, which is as raw as they come, but for a dance movie, we have enough to overlook that. When two mavericks are putting together a product doing what they do best, there's hardly anything that could be at fault, but then again if it's a 140-minute Bollywood movie, there are many other aspects that need to work in tandem for it to be an all-round entertainer. ABCD loses marks where story is concerned. The plotline has 'been there seen that' moments stamped all over it and if you think that the dances alone would suffice, unfortunately in totality they appear to be singular dance episodes stringed together albeit each with a satisfactory brief backstory. The dancers can move well, unfortunately their subplots don't move you too much as it meanders sloppily.
The respite is; that in isolation; each piece works beautifully well. Having been a judge on a dance reality show, Remo was understandably longing to choreograph a dance movie and he does a spectacular job at it. There are some major goose-pimply moments and despite knowing how the story will end, the built up is persuasive enough that you are emotionally coerced to root for the underdog. For a dance movie, music is undoubtedly under a microscopic spot as far as technical skills go. The songs which weren't my top favorite yet are well-put thematically. I found myself additionally drawn to 'Bezubaan' which I thought was brilliantly used in context as well as shot just as exquisitely. Special mention to the background score by Sachin – Jigar, which is one of the strongest highlights and key contributor to the film's entertainment value. (Would love to have this one available commercially)
Overall, ABCD is a true-blue Bollywood entertainer. The predictable destination one doesn't want to care too much about, the journey through is an enjoyable one. For an industry that is famous globally for its song-dance routines, ABCD is proof that we are adept to pull off a movie of this genre.