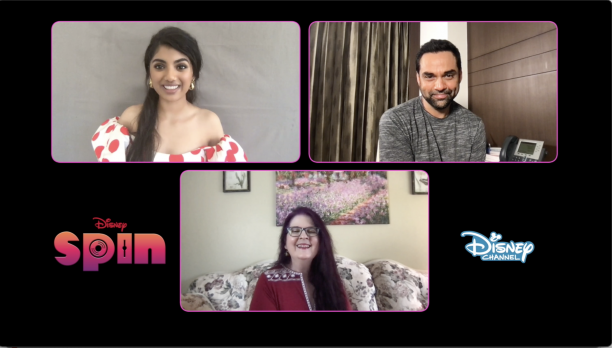 Directed by Manjari Makijany (Skater Girl), Spin, the brand new Disney Original Movie, is set to hit the airwaves on Friday, August 13th. What makes Spin so special is that it is Disney Channel's first original TV movie with an Indian American lead that also features a prominent Indian cast. Starring Avantika (Diary of a Future President), the film also features Abhay Deol (Zindagi Na Milegi Dobara), UK comedienne/actress Meera Syal (Yesterday), and Aryan Simhadri (Adventures in Wonder Park). 
Spin is an inspirational story about Rhea (Avantika), an Indian American teen. Her journey of self-discovery empowers her to find her true love—creating and producing beat-driven music infused with the rich textures of her South Asian culture. Rhea's (Avantika) busy life revolves around her eclectic group of friends, Molly, Watson, and Ginger, working at her family's Indian restaurant and her tight-knit family, including her father, Arvind, younger brother Rohan and her grandmother, Asha. Arvind (Abhay Deol), Rhea and Rohan's loving father and chef who runs his family's restaurant, Spirit of India, is a widower of eight years. Everything changes when Rhea falls for aspiring DJ Max, and while falling, finds a passion for creating tracks to spin. Rhea discovers that she has a natural gift for making beats and producing music but must find the courage to follow her talent and find her music and play it out in the world.


In a fantastic video interview, we chatted with Avantika and Abhay Deol about all things Spin. Check out what they had to say!




Revealing what made him want to be a part of the film, Abhay said


We also discussed that Spin represents South Asians and Indian culture but in a unique way
Avantika also spoke about the fact that the film featured a South Asian girl and her family as the center of the story but that it was not the focus
So what was the audition process like for Avantika? She revealed a fun fact!
Abhay also discussed getting into the character of Arvind and working with director Manjari Makijany

Abhay had nothing but praise for Avantika and her work on Spin
In a wonderful answer, they both shared what they hope the audiences watching the film will take away with them after it fades to black and the last beat plays.


Also starring Michael Bishop (Grace Beside Me), Anna Cathcart (Descendants franchise), Jahbril Cook (A Week Away), and Kerri Medders (Alexa & Katie), Spin premieres at 8 pm EST on Friday, August 13th.
Thank you Abhay and Avantika it was a pleasure to speak with you!
Stay tuned for our Spin review. Also you can check out the interview with Aryan Simhadri here.