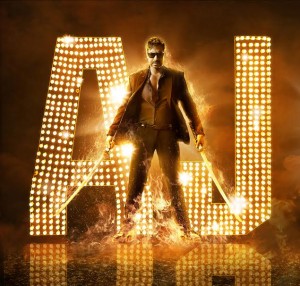 Prabhu Dheva's Action Jackson is all set to hit cinemas on Friday, and if advance booking is any indication, it looks like the film will be taking the box office by storm. This is the first time Prabhu Dheva has worked with Ajay Devgn, and the buzz around the film is mounting. Also featuring Sonakshi Sinha and Yami Gautam, advance booking for the film opened with a bang on Tuesday at most multiplexes and it is expected to notch up fantastic numbers during the weekend. Programmers from various multiplex chains and exhibitors too believe that in spite of releasing on a non-holiday, Action Jacksonwill enjoy a smooth run at the weekend.
Ansh Kapoor, Fun Cinemas
Action Jackson is turning out to be a magnum opus after a dull November, which was a disaster as none of the films worked, even those featuring big stars. Advance booking for the film started on Tuesday and the film is releasing on a non-holiday but the film will take a gigantic opening and hold strong over the weekend. At present, ticket sales are more than 50 per cent and the numbers will grow by late evening. On average, we have allotted 12-14 shows per property. This is a solo release, which is an advantage.
Amar Laykar, PVR Cinemax
Ajay Devgn and Prabhu Dheva have come together for the first time and everyone is looking forward to seeing the new action created by both of them. This film will undoubtedly ring in gigantic numbers inspite of releasing on a non-holiday. The last few months were quite dull, which is why everyone has high hopes from Action Jackson. Also, being a solo release, we will run maximum shows. The outstanding response to the advance booking suggests that we will sell out the weekend shows by this evening.
Debashish Sengupta, Priya Entertainment
The buzz around Action Jackson is very high and we opened advance booking on Tuesday because queries started coming in last weekend. Advance booking for Friday evening's shows are almost full in most of our territories. Ajay Devgn has his loyal fans and does Prabhu Dheva. The two of them have worked together for the first time, so the film is bound to see a fantastic weekend.
Prem Lakhani, Rajhans
Expectations from Action Jackson have grown with the release of every song and dialogue promos. Last month was very bad for exhibitors all over India as not a single film did good business. Now all eyes are on Action Jackson. Since this film is releasing in the first week of December, the audience will definitely go and watch their favorite director Prabhu Dheva's film at the weekend.
Akash Jalan, Eylex
The last few months saw barely any bumper films after Happy New Year. All eyes were on November as the films looked decent by their trailers didn't turn out to well. Now all eyes are on Action Jackson, as Ajay Devgn will be seen doing Prabhu Dheva's kind of action for the first time. Advance booking for the first day is 50-per cent sold out already in spite of it being a non-holiday. It will go up to 80 per cent by evening.
Ashutosh Aggrawal, Star World
After a dull November, we will finally get to see good collections at the box office with Action Jackson. It's an entertaining family film and as the title suggests, it will have action as well as dancing.
Bhuvanesh Mendiratta, Miraj
Expectations from Action Jackson are very high as the last month was a disaster for exhibitors. Not only last month, I would say Q3 (financial quarter) was not great at all whereas this quarter is usually a great quarter for exhibitors as well as for distributors as it sees the biggest releases of the year. Action Jackson is a combo package of Devgn and Prabhu Dheva and we expect a huge weekend.
Our properties in Mumbai, Pune and Gujarat are seeing huge advance bookings as Prabhu Dheva has a huge fan following in these cities.
Ashish Singh Baghel, Bioscope
The peppy dance number and catchy lyrical songs have fired the imagination of audiences and as a result, queries for Action Jackson started coming in last weekend. Hence we opened advance booking on Tuesday, which usually happens only with big films that release on holidays. Without a doubt, the weekend will reel in huge collections.
Mayank Shroff, Cinepolis
Advance booking for the film is very strong, especially for Saturday and Sunday. So far, the film has drawn an outstanding response at the ticket window and is creating a huge buzz. With an over 60-per cent response to advance bookings, we predict nothing short of an exceptional weekend.
Ashish Gogia, Sun City
The film took a fantastic start during advance booking at our properties as it started on Tuesday evening, So far, 50 per cent tickets are sold out for Friday's shows and we expect superlative net collections during the weekend. The film will be a blockbuster.