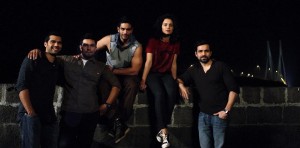 Dharma Productions' Ungli intends to give an interesting take on day-to-day problems faced by a common man and how a gang of five friends choose to stand up like the fingers of a fist, as vigilantes against the powers. The gang includes Emraan Hashmi, Kangana Ranaut, Randeep Hooda, Angad Bedi and Neil Bhoopalam. Sanjay Dutt and Neha Dhupia will also play pivotal roles in the film.
The subject of the film is very relevant and sensitive and hence it was very important for the director to handle it wisely. Rensil D'Silva who has earlier scripted Rang De Basanti. The director feels that this generation is very different and the youth really wants to take matters in their hands. "Ten years after I wrote Rang De Basanti, I realised that even candlelight marches don't yield results. At best, they get some media attention, but are soon forgotten. It's time for action," he concludes.
Producer Karan Johar feels that the entertainment quotient of the film remains high up in spite of the sincerity of the subject. "It is the most unusual film I have made to date. I think the film is a magnetic balance of social relevance and entertainment. The ensemble cast packs a punch and keeps you riveted through the proceedings," said the producer.
Ungli is slated to release on November 28. 2014.