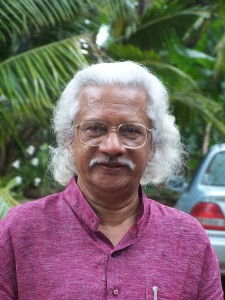 On the 19th of July 2013, Adoor Gopalakrishnan will be speaking about his work at the London Indian Film Festival. Gopalakrishnan is a pioneer in the world of South Asian film. His first film in 1972, Swayamvaram, had revolutionised Malayalam Cinema. It was through this film that the new wave cinema movement had begun in Kerala. Having won sixteen international awards, Gopalakrishnan has also been awarded the most prestigious award available in cinema by the Government of India, the Dadasaheb Phalke award in 2004.
Gopalakrishnan had given his first on stage performance at the young age of eight. He went on to study at the Gandhigram Rural Institute where he achieved a degree in Economics, Political Science and Public Administration. After working as a Government Officer, he decided to leave his job and study at the Pune Film Institute. He studied Film and Screenwriting. After that, he made history. He established the first film society in Kerala alongside his friends. He scripted and directed eleven films and around thirty documentaries. Not only this, but he won the BFI's Sutherland Trophy for his film Elippathayam in 1982. Gopalakrishnan is the only Indian film-maker alongside Satyajit Ray to hold this award.
His film Elippathayam will be screened at the London Indian Film Festival on the 24th of July at the BFI. London Indian Film Festival describe Elippathayam as:
…the tale of a man and his three sisters who cannot comprehend the sweeping changes arising from the demise of feudalism in the southern Indian state of Kerala. Drawing from the experience of his own family, Gopalakrishnan sets the action in a crumbling mansion where once-proud lives disintegrate in near silence.
To find out more on how to book, please visit:
http://www.londonindianfilmfestival.co.uk/programme.htm