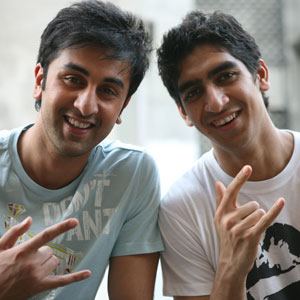 The Actor made friend and Director Ayan perform all the stunts before him… Ranbir Kapoor is terrified of water but while shooting in the south of France for his upcoming film, Yeh Jawani Hai Deewani, director Ayan Mukerji needed him to jump from a height into the ocean for a particular scene.
However, according to an insider from the production unit, "Ayan was able to convince him to do the scene only after he himself did the stunt first."
The director and the actor, working together for the second time (they did Wake Up Sid in 2009), are known to be close friends. And that is why Ranbir was able to coax Ayan into agreeing for this odd request.
The routine was repeated again while shooting at a fort in Rajasthan. Ranbir was made to fall from a height of 250 feet. Again, while shooting at a five-star hotel in Udaipur, Ayan got Ranbir to jump off the terrace, but only after Ayan did it himself.
Ayan, on his part, was happy to oblige every time. He says, "I think the desire to torture one another is mutual between Ranbir and me. I get a weird kick from having Ranbir do stuff he really doesn't want to. Like jumping into the ocean or standing on some crazy height. The only way he gets back at me is by insisting I do all of this before he does it. That's how it goes."
Produced by Karan Johar, the film also stars Deepika Padukone, besides Aditya Roy Kapur and Kalki Koechlin. Yeh Jawaani Hai Deewani releases on 31st May in UK cinemas through Eros International