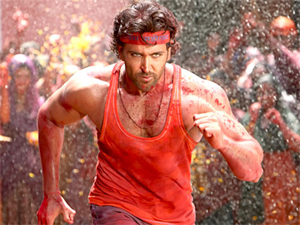 Remakes definitely have it tough. Not only do they have to go through the usual grind of pleasing the audiences and doing well at the box office, they also have to bear the added burden of comparisons with the original. And in most cases, the huge expectations and comparisons often kill the remake. Agneepath is a remake of the 1990 Yash Johar production – a movie which was a box office failure but went on to become a cult – and there's no doubt that people are waiting to decide whether this one works better than the original or not. Truly speaking, Agneepath is more of a tribute rather than a remake; it pays homage to the original, it itself states that the cult is difficult to recreate but at the same time urges you to watch it without any pre-notions. I am going to do this movie a favor – I will keep the comparisons to bare minimum and review this as an independent movie.
Directed by Dharma Productions product Karan Malhotra (assistant director for My Name Is Khan), Agneepath's basic storyline remains the same but then it goes into its own story and there are many changes. Dinanath Chauhan (Chetan Pandit), a principled schoolteacher, always instills in his son Vijay that it is not so much about having power, but how one uses it. Things take an ugly turn for the family when Kancha (Sanjay Dutt, looking dangerously menacing), in a bid to take over the village Mandwa, implicates Dinanath in the rape and murder of a handicapped girl. Enraged, the villagers hang him and drive away Vijay and his pregnant mother (Zarina Wahab) who take refuge in Mumbai. Vijay now has only one aim in his life – to avenge his father's death and return to Mandwa and for that he is ready to go to any length. In a cunning and calculated move, Vijay (Hrithik Roshan) joins Rauf Lala's (Rishi Kapoor) gang and grows up to be his most trusted aide. However, his incorrect ways end up alienating his mother and sister with only his childhood friend and love, Kaali (Priyanka Chopra), staying by his side. How he manages to rise to power and avenge against Kancha forms the rest of the story.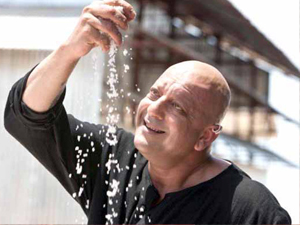 Karan and Ila Dutta Bedi try to bring in some newness to the story. However, unlike Don or other such remakes, there is no scope to modernize the story or make it relevant to today's world. Which is why Agneepath's story still has that 80-90s feel to it – the adarshwadi parents, the mom delivering a baby on street, the childhood pyaar, the hero's sister getting molested by the villain and of course the age-old badle ki aag. Those of you who were fans of these formulaic movies would definitely enjoy it, but others may find it truly unbelievable. The writers have done away with the popular character of Krishnan Iyer MA and instead introduced a villain Rauf Lala (which is quite a good move we must say). Even then, one gets a feeling that there is something amiss in the screenplay. The movie works in bits and parts but as a whole it fails to live up to the expectations. Take for example the scene where the sister comes to meet Hrithik's character in his colony. It's one of the most beautifully acted and executed scenes in the movie, but it comes at a point where the script is involved in the rise of Vijay and in the fast paced action looks totally drawn and out of place. There are some truly lovely scenes in the movie; the time when Vijay sees his sister for the first time and when he meets her after 15 years, the way he kills Rauf Lala, the dinner with his mother…there are scenes which affect you but as a whole the script does injustice to the actors.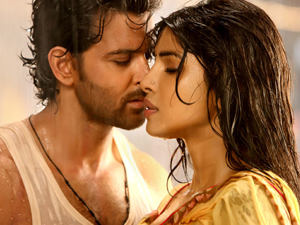 As a director, Karan does pretty well for a first timer although there are times when you feel that maybe it got too much for him to handle. The movie tends to drag in between, which brings us to our second point – the editing. Akiv Ali's editing should have been crisper, which would have prevented the movie from being a drag at many places. Music by Ajay-Atul is neither extraordinary nor mediocre, thankfully the songs manage to blend into the movie most of the times and not stand out like sore thumbs. Cinematography by Kiran Deohans and Ravi K.Chandra is good as is Sabu Cyril's art direction although one must say that the Mandwa setup (in Diu) looks pretty phony and not up to the mark. Choreography by Ganesh Acharya, Rekha and Chinni Prakash is good too although only Ganesh's Chickni Chameli manages to stand out. Dialogues by Piyush Mishra are a big letdown with most of the dialogues bordering on filmy to very filmy. Many of the famous lines from original have been incorporated into this. Thankfully Big B's "Naam: Vijay Chauhan. Poora naam: Vijay Dinanath Chauhan. Baap ka naam: Dinanath Chauhan. Gaon, Mandwa." has been used only once and at the right place.
If this movie really works for you it's because of the amazing performances. Whether it's the constrained acting by Zarina or the commendable job by the kids, most of the actors do justice to their roles and rise above the weak screenplay. Arush Bhiwandiwala as the young Vijay shines out and manages to portray the angst of his character well. Priyanka as Kaali doesn't have much to do in the movie although her performance reminds you of her character from Kaminey (bold, brash Maharashtrian mulgi) she does manage to provide the light moments. The movie though belongs to three men – Rishi Kapoor, Sanjay Dutt and Hrithik Roshan. As the mobster involved in flesh trade and drug dealing, Rishi as Rauf Lala gives one of his most villainous and power packed performance till date. Sanjay Dutt as Kancha looks menacing enough to give you nightmares and send a chill down your spine although he has one disadvantage. Unlike Rishi's bad guy, Sanju's Kancha is made out to be more of a caricature of bad guy ( remember what they did to Voldemort in Harry Potter) and give him some seriously silly dialogues. In spite of that, Sanjay manages to give his character enough dimensions.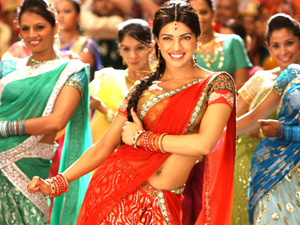 From the time the remake was announced there has been one question in every one's mind – would Hrithik better Amitabh's Vijay. I think the comparison would be unfair as the character sketches of the roles they play are very different. While Big B's Vijay was more ruthless and larger than life, Hrithik's Vijay is resilient and calculative. The best part is that Hrithik does not try to emulate Amitabh; he brings us his, and only his, interpretation of the character. And in that he does a commendable job. Giving one of his finest performances, Hrithik manages to bring forth the angst and emotions pretty well. Maybe it's the weak screenplay, but Hrithik manages to touch your hearts and strike a chord more in the scenes depicting relations (with his mother, sister or Kaali) than in his confrontations with the villains. Nevertheless, Hrithik manages to carry the movie on his shoulders.
Having watched the original as a kid, I still remember the awe generated when Amitabh used to mouth his dialogues. There may not be those in this one but frankly as a movie, the current Agneepath did manage to work for me. As a remake…well the debate may never end. My suggestion? Go watch this movie for nostalgia and some really great performances to come out of the actors.