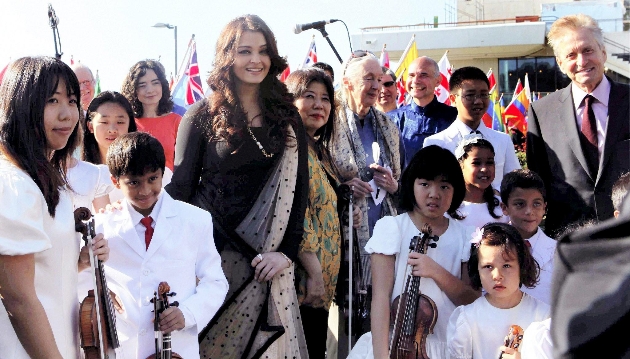 Aishwarya Rai Bachchan attended the symbolic Peace Bell event of the United Nations in New York on September 21st. Others who attended included the Secretary General of the UN Ban Ki Moon, Dr Jane Goodall, Forest Whitiker, Michael Douglous, Monique Coleman and various other heads of states. The theme of this year's Day of Peace was "Sustainable Peace for a Sustainable Future".
Aishwarya attended the Peace Bell ringing ceremony and then after she addressed over 500 students from across the world live and connected via the web.
We have some excerpts from her speech on peace.
"Good morning respected Secretary General, dignitaries and friends.
It is a great honour to be here today at such a symbolic event. I am a great believer in the United Nations- uniting for a better world. UNITY takes COURAGE-COMMITTMENT AND LEADERSHIP- and this is what I am seeing and experiencing today…….not only with the Secretary General and dignitaries- but also with you- the next generation!
A lot has already been said today…..eloquently… And effectively, resonating….all that each of us believe in, to bring and keep our world together. PEACE, however is divine manifestation and we have to find and achieve peace within each of us and spread that around.
My father put it very simply…man says I want peace….well cut your I-ego-sense of being Singular-and become a we and us- get rid of your wants and desires and you'll find your peace. I'd like to end with a Sanskrit peace mantra.
Om sarvesha swastibhavtu, sarvesha shantibhavatu, sarvesha purbhavatu, sarvesha manga lam bhavatu, om shanti shanti shanti
May all become fortunate
May all attain peace
May all achieve fulfilment and may all be blessed
Om peace peace peace…."