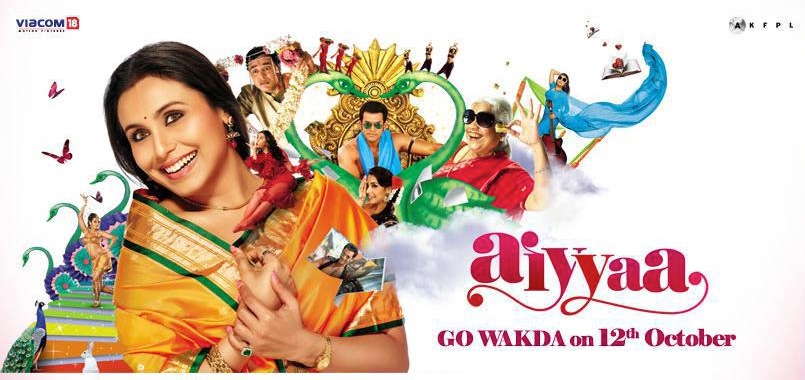 If last week belonged to Shashi Godbole, this week another Maharastrian mulgi, Meenakshi Deshpande, tries to make us look into her life, her dreams, herself. Director Sachin Kundalkar, who has dabbled in Marathi cinema earlier brings to us a crazy, wacky and really wakda story through Aiyyaa.
Based on the segment Lagnaachya Vayachi Mulgi (A Bride To Be) of his 2009 Marathi movie Gandha (Smell), Aiyyaa is the story of a filmy, feisty Maharashtrian girl Meenakshi (Rani Mukherjee) who realizes that her dreams are about to remain unfulfilled as her parents have begun the customary groom hunting. Between her groom seeing ceremonies and the crazy antics of her family – loud mother, telephone repairing dad, dog loving brother and gold teethed grandmom – she starts falling for an art student Surya (Prithviraj) because of his smell which she finds attractive! While she tries to get to know him better, things complicate as her parents decide to get her engaged to Madhav (Subodh Bhave).
While the story seems apt for a short film, Sachin's two and a half hour saga is painstakingly long, boring and irritating. I think that pretty much does sum up the movie. Rani's sniffling gets really irksome after the first 20 minutes and that's pretty much what most of the film consists of – Rani either sniffing or stalking our guy. There are a few scenes which are funny but by then you are so beyond caring that they just seem to test your patience more. I cannot even begin to start with the things that are wrong with this film. While the premise is different and could have been a crazy ride in a good way, it turns out to be just the opposite. The director seems at a loss as to what he wants to show in the movie and it all seems likes a long indulgence fest for him to try out all that he could. The character sketches are shaky and in spite of all the good actors present, it still comes out as fake and amateurish. Take Rani's character for example. While Meenakshi's character is started off as someone who is filmy and dreams of becoming an actress, a song later she is shown to be someone who's only dream is to fall in love. For someone who is shown to be feisty, meekly following her family's wishes doesn't quite gel in. Add to that the fact that for a girl who is said to speak her heart out and be frank, she sure does take the entire movie to confront her guy. The other characters are pretty much off chart too. The only good thing I guess is the fact that for a change, a male has been shown as a sex object in our movies!
Trying to bring sense to this nonsense is hard work and unfortunately none of the actors succeed. Rani as Meenakshi could have been fun but the script lets her down. Also some jarring inconsistencies make it more difficult to connect with her – her bad Marathi accent, the fake 'bad' English. At least she did make everyone know that her dancing has improved tremendously and can do lavni, belly dancing, South Indian grooves…well I guess we got our female Hrithik in the dance department.
I have watched almost all of Prithviraj's movies, which is why I keep wondering what made him say yes to this one. To someone with good acting skills he seems to be making some really bad choices lately. Prithvi's character has pretty much nothing to say – he barely opens his mouth before the interval. Plus all those long scenes with Tamil dialogues and no subtitles really don't help the audience. And when I say he has nothing to do in the movie I am not exaggerating.
The rest of the cast is pretty much made up of Marathi actors and out of them Subodh as Madhav is the only one who doesn't make you scream. The others are good in their parts too and if you have seen some of their Marathi works you will realize that these are something they have already done before. Nevertheless, Nimriti Sawant, Amey Wagh, Anita Date all manage to bring out the few required laughs.
This is not Amit Trivedi's best work and it feels lot worse when you see the bad choreography and forced placing of the songs. And yes, Mr Anuraj, the movie is racist and definitely does not "make fun of all things cliché by using them".
You are definitely in a critical conditionam by the time you finish Aiyyaa. Rather check out the short story instead of spending three hours see a girl sniff a boy!