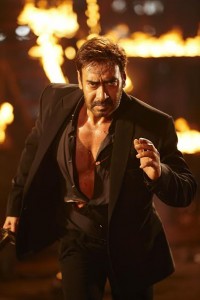 Surprised? Ajay Devgn's Action Jackson will not only see the superstar perform never seen before sword fighting scenes and sophisticated martial arts, but in an innovative twist we hear that all the action sequences have been choreographed to music!
Its 'Action to The Beat' as probably for the very first time, the music and soundtrack for Action Jackson was conceptualized first and all the fight sequences were choreographed to match the beats!
Ajay Devgn has performed a stellar fight series mixed with dance at the same time in the film! In fact for the first time in Bollywood history, all the action sequences have specially been choreographed to the music, and keeping all the tunes, beats and sound in mind, were all the fight scenes designed.
The director conceptualized every step of the fight sequences to the music which has been composed by Himesh Reshmaiyya. Ajay Devgn and Prabhudheva particularly loved a piece of the music which has been the highlight of an adrenaline pumping scene promising to give a thrilling new experience to the audiences.
Speaking on this unique 'action to the beat' style, Director Prabhudheva says, "Usually, the music around the action is created after shooting the scene. But we didn't do the same for AJ. First the music was created and then we got Ajay sir to fight to the beats. Ajay sir did it brilliantly. Its almost a very special shot in the movie for me personally."