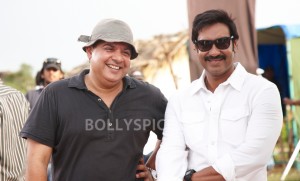 Ajay Devgn is one of the biggest superstars we have in Bollywood today, but this has not made him forget his earlier days in the industry! Well, the story goes that the actor was recently shooting for Sajid Khan's highly anticipated Himmatwala remake at Shell Bharat Petroleum in Chembur. This location is very close to the lion king's heart as he shot for the yesteryear superhit Phool Aur Kante at the same venue.
AD's debut movie which made him a superstar overnight was shot at the said location over two decades ago and shooting here again took him down memory lane. The actor remembered everything about the place including the route to get there and was heard telling his team various incidents from his Phool Aur Kante days! Ajay was extremely happy to see that the colony was still as beautiful as it was before. The lush plants and serene atmosphere made him enjoy shooting there all the more. In a city where most locations are polluted and commercial, AD was surprised to see that the colony was maintained so well! Decades have passed and the actor has gone from pillar to post but he still remembered every little detail of his entry into the industry!
Now, this just takes our excitement around Himmatwala several notches higher and we can't wait to get a glimpse of it!
Directed by Sajid Khan, Himmatwala is slated to release on March 29th, 2013!