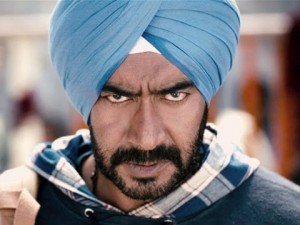 Ajay Devgn, whose upcoming action comedy Son Of Sardaar is all set for a Diwali 13th November release, recently flew to Amritsar to meet representatives of the SGPC and All Indian Sikh Students Federation over concerns of objectionable content in the film.
Under fire from Sikh organisations for allegedly portraying Sikhs in bad light in the film the actor visited Amritsar on Monday for a meeting to discuss the issues that concerned the committee. The meeting was attended by Punjab Revenue Minister Mr. Bikram Singh Majithia, who was present with a five member committee of SGPC and complainant Karnail Singh Peer Mohammad in a local hotel.
The actor has addressed all issues to the satisfaction of all parties involved and the members present were full of praise at his efforts to attend their concerns.
In a press conference held at Amritsar, Devgn announced that there has never been any intention at all to ridicule the Punjabi or Sikh community when in fact the film is an effort to showcase the Punjabis in good light. The actor stated that he himself is a Punjabi and if anything in the film would hurt the community then he would be hurting his own family.
"The film is a magnanimous effort to showcase the community in the most positive light, proudly highlighting their strengths. I am a Punjabi and I cannot even think of hurting the people's sentiments as it would be like hurting my own family and my own culture and tradition. I have cleared the objections and explained everything about the film and the context of the portions about which there were objections," he said.
The actor has been very particular about all content shown in the film and even engaged renowned experts from Punjab to accurately reflect the culture. "In Bollywood films the turbans don't reflect the original style. We flew the turban expert from here over 20 times so that the turbans of characters should have a true style," he added.
Mr. Majithia praised the superstar for showing tremendous sensitivity and flying down from Hyderabad to Amritsar to personally speak to the committee. "Now all the objections have been addressed and Devgn deserves all praise for that. I am sure it will be a good movie which every Punjabi would watch," he said.
Complainant Peer Mohammad too said that he was pleased with Devgn's explanations and assurances regarding the film.
After the meeting Devgn said to the press, "I have explained everything about the film and the context of portions about which there were objections from SGPC panel members. We will remove such portions, but I have no control over film promos which are already out on the Internet."
Starring Ajay Devgn, Sonakshi Sinha, Juhi Chawla and Sanjay Dutt in the lead, Son Of Sardaar releases on Diwali day 13th November 2012.