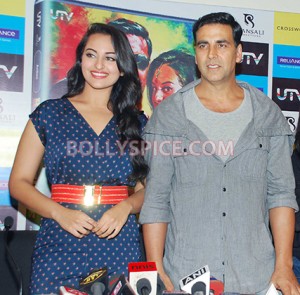 Having got into the 100 crore club with Rowdy Rathore, the makers of the movie launched the DVD of the film recently at Crosswords where BollySpice was present. Needless to say that the public went into a frenzy seeing both Akshay Kumar and Sonakshi Sinha at the venue. Also present where director Prabhu deva and Siddharth Roy Kapoor.
While the press bombarded the gathered stars with their questions, Akki was at his best with his ready smart answers for each of them. When asked that some call him Khiladi, some Akki and now some Rowdy which name did he prefer he replied, "Dil se jo kehna ho keh sakte hain.When I had first started my career in films I didn't really act well and a lot of people used to call me furniture!" First Priyanka, then Katrina and now Sonakshi – with Rowdy Rathore a success and the couple repeating their pairing in their upcoming Joker, it seemed that Sonakshi was the new lucky charm for him. So did he believe that, we asked. Akki promptly replied that he doesn't believe in lucky charms and as far as he was concerned, each and every person associated with the film was a lucky charm to him. When the questions got a little personal and uncomfortable, Akshay smartly avoided them saying, "Don't angry me!"
Sonakshi thanked the gathered people for making this movie a huge success and hoped to keep delivering entertaining movies. Prabhu deva, as shy as usual, spoke very little but Akshay revealed that the silent director would get angry on the sets if the shot was not delivered well or if the setup was not as he had asked. Questions regarding the sequel arose to which Siddharth replied, "We would definitely want to make a sequel if Akshay gives us dates!"
On a parting note, talking about the trend of South remakes in Bollywood, Akshay said, "They take some of our movies and we take some of theirs. It's a give and take relation." Looks like we might see him in more such remakes. Till then, those who loved this movie can buy the DVD from local stores.