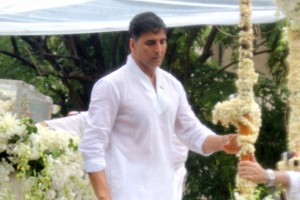 Superstar Rajesh Khanna, 69 who passed away on Wednesday in Mumbai following a liver infection had a funeral he 'deserved' according to his son-in-law Akshay Kumar.
Akshay tweeted on Saturday, "I always wanted to witness my father-in-law's superstar stardom during his hey days. Thanks to you all, I did, giving him a dignified funeral that he deserved. I appericiate your thoughts and prayers."
The funeral which was held on Thursday was attended by stars and fans alike. Amitabh Bachchan expressed his views about the funeral on twitter, "The funeral of Rajesh Khanna was poignant and crowded .. the crowds were in throngs, with scant respect for the situation .. pity !!"
Amitabh and his son Abhishek had to walk to the crematorium due to the vast crowds making it difficult for the cars to manoveure. Although Amitabh was not happy with the funeral, he expressed his thoughts of his late friend and the funeral on his personal blog.
Salim Khan told NDTV, "I feel saddened that he left us when he was just 69, (he would have turned 70 this December). But he had been ailing for a long time and suffering. After a high-profile acting career, he has got the rest he must have wanted."
Akshay added on twitter, "Thank you everyone for your kindness and sympathy during our time of loss. Your thoughtfulness at this time of great sorrow is truly a comfort. Knowing you all are here helps."
Twinkle Khanna who is Rajesh Khanna's eldest daughter is expecting her second child with husband Akshay. Their first child, 9 year old Aarav performed his grandfather's last rites at the Vile Parle crematorium.
Although Rajesh Khanna's last words were, "time up ho gaya, pack up." (Source: NDTV) he is a legend that will live on and will forever hold a presence in Bollywood that can be matched by no other. He was Bollywood's first superstar, and he will remain in the hearts of all.