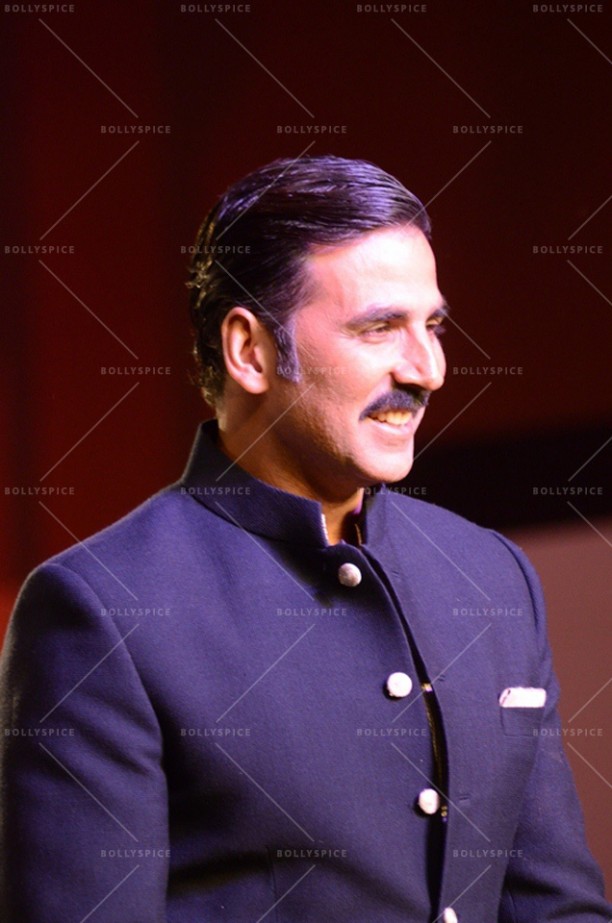 Akshay Kumar was one of many the stars who walked the ramp at the Shabana Azmi's NGO Mijwan Welfare Society's annual event Mijwan Fashion Show 2014, organised in support of the empowerment of women. The NGO was founded by the late poet Kaifi Azmi to empower rural India with a focus on the girl child and women. Of late, Akshay has shown his commitment to this cause, one which is close to his heart, and was also present at the L'Oreal Paris Femina Women Awards very recently. India's largest read women's English magazine hosted the third edition of the L'Oreal Paris Femina Women Awards 2014 in association with L'Oreal Paris, bringing to the forefront 'Women of Worth' in India. The event saw several Bollywood superstars in attendance, all of whom were present to honour the accomplishments of a group of courageous women, who had made selfless contributions to their own communities and achievements of significance in their careers.
One inspirational story came from a girl called Sarupa Sangam, who had been inspired to fulfil her aspiration in life through Akshay Kumar. Sarupa hails from a small village near Hyderabad. Burdened by debt, Sarupa, her mother and her four siblings would work as maids whilst her father operated an auto rickshaw. This was not enough to make ends meet and the family were forced to leave their home to avoid creditors. After her father managed to secure Sarupa a full time job as a maid, one of her main duties was to take her employees children to their kudo martial arts classes. Having been inspired by watching the children at their classes, Sarupa mustered up the courage to ask the teacher, Soshihan Mehul Vora, if she too could take part in the classes despite not being able to afford this. He willingly agreed to teach Sarupa without cost and the rest was history. In 2011, Sarupa went on to win a silver medal in the Akshay Kumar International Karate Tournament.
The dedication of this inspiring girl caught the eye of the Shihan himself, Akshay Kumar who went on to award Sarupa a cash prize of 1,00,000 INR in the 'Upcoming Students Category' at the Femina Women Awards. Today, Sarupa has realised her dream and works as a martial arts teacher at the M.P. Shah English High School, where she is able to train other girls like herself. She is now the pride of Karim Nagar village in her home town of Andra Pradesh and credits Akshay Kumar for enabling her to achieve her dream, claiming that had it not been for him, she would have been married off by now and still working as a full-time maid.
This moving story has brought to the forefront the indirect and direct influence the brilliant Akshay Kumar has on his fan following. He himself is a 6th degree black belt in Karate and has the title of Shihan, which translates to teacher's teacher, awarded to him in 2009. He is due for his 7th degree black belt imminently. His passion for this sport has already seen him launch the aforementioned 'Akshay Kumar Kudo Tournament' five years ago, pioneering the biggest ever Martial Arts movement in Indian Karate and this May, he will be launching his Martial Arts Institute for women, in Mumbai. He also credits the discipline martial arts has given him, both emotionally and physically, for enabling him to excel in his film career.