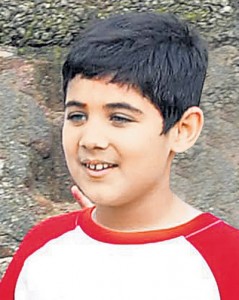 We have always seen Bollywood celebrities doing charitable work.. But when did we last see a 11 year old kid doing charity and taking active interest in it.. Reportedly, Akshay Kumar's son does a lot of charity.
The boy, it seems, not only takes social responsibilities seriously himself, but he also urges his dad to do the same. Aarav regularly visits charitable institutions and donates clothes and toys to underprivileged kids.
"Every now and then, both father and son clean up their cupboards. Aarav gathers all the stuff that they don't need and heads to Bal Bhavan-Shraddha Vihar, an orphanage located in Andheri, and donates all the things," says a source close to Akshay.
The insider also adds that "apart from that, Aarav often also takes toys and clothes and goes with his driver to distribute them among street kids."
Every time Aarav hears of some social cause, he nudges Akshay to contribute to it in some way. "Once he heard of an initiative for the education of the poor. He made Akshay find out more about it and make a contribution to fund the kids' education."
Apart from his do-gooder nature, Aarav is also very eco-conscious. The source says, "He tells everyone to plant trees and not litter the streets and public spaces. When a news channel started an initiative called Greenathon (a nationwide campaign to save the environment), Aarav coaxed his father into supporting it."
The actor, eventually, helped bring electricity to an entire village. The actor's spokesperson,  confirmed the news, and says that even Akshay is pleasantly surprised by this side to Aarav's personality.