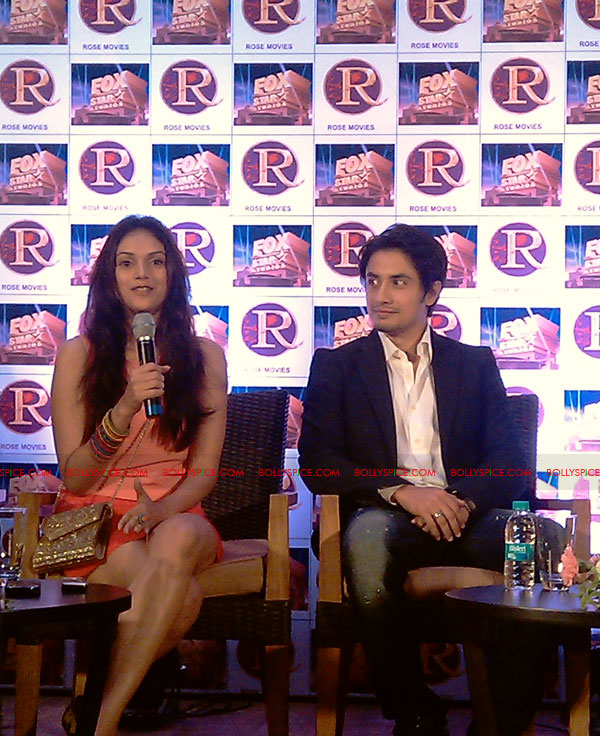 Fox Star Studios along with producer Goldie Behl's Rose Movies recently announced their first movie together named London Paris New York starring Ali Zafar and Aditi Rao (of Yeh Saali Zindagi fame). The lead pair was present at the event along with debutant director Anu Menon, CEO of Fox Vijay Singh and producers Goldie Behl and Shrishti Arya.
London Paris New York is the story of Nikhil and Lalitha: two completely different individuals who are drawn to each other in spite of their differences, or perhaps because of it. The film follows their journey of love as they meet in London, Paris and New York for a night in each city. The film is a coming-of-age love story mirroring three states of love. The film is slated for release in the first quarter of 2012.
"The amazing thing about this script is the way it deals with heartbreak and the hatred that comes after the heartbreak also. So, in that sense it is bold enough to explore the emotions when young people fall in love and out of love and whether they fall back in love or no," said Goldie.
Talking about the film Ali Zafar – basking under the success glory of Mere Brother Ki Dulhan (MBKD) – said, "It's a very feel good, natural film…I mean like two people in real life….walking and talking…and the crew was actually shooting it. We have tried to keep it as real and as believable as possible."
Ali, who would constantly be making some tune or the other during his free time on the sets, has donned the hat of a singer as well as the music director for the film. That's not all; he has even written the lyrics for the movie songs! Which is why he feels that being in Bollywood he can have the best of both worlds – acting and music.
So while he was in search for Laden in his first movie (Tere Bin Laden) and in search for a bride in his second (MBKD), what is he in search of in this movie? "A good question, I would say that actually I am in search of myself in this movie." Starring in a Yash Raj movie in his second one and a Fox production as his third, he does admit that he considers himself lucky although he had always dreamed big.
Aditi Rao, who made waves with her performance –and her kisses – in Yeh Saali Zindagi (YSZ) considers Ali to be a great co-star. "It's great fun being on set with Ali. Maine socha…ki ek mahina ek actor ke saath main pagal ho jaongi! Lekin bahut mazaa aaya. Ali loves music and so do I. He is constantly singing something and I would listen to him and start singing with him." Aditi will be seen singing in this movie and according to her co-star she is a fabulous singer.
Having started her career as a much older unmarried woman in Delhi 6 and then a young mother in YSZ, Aditi agrees that her movie roles do seem to be getting younger." I am Benjamin Button!" she declared jokingly although she stated that she was happy to have done those previous roles. Talks of bold scenes and Ali's joking comment "Main iss puri movie main bina shirt hoon aur end main shirt pehenta hoon!" led to Aditi being bombarded with questions regarding her take on kissing and love-making scenes which she answered without any discomfort. And while Rao would love to do a periodic drama, Ali doesn't mind doing an action movie either. "Who wouldn't want to do it?" he asked, "Ek maaro do char udke jaate hain , doosri taraf maaro aur che udke jaate hain!"
Watching the pair playfully bickering with each other onstage lead to no doubts as to why Anu had selected these two for her debut movie – their chemistry is totally visible. Anu has set the film outside India, and the London schedule has just wrapped up. Post MBKD promotion, the team will be off to Paris and New York to complete the shoot.
Here are some exclusive shots from the event!