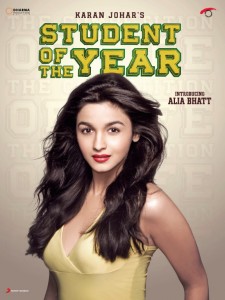 For Alia Bhatt, conversations of late begin with her likeness to Kareena Kapoor. Nicknamed Baby Bebo by designer Manish Malhotra, Varun chips in that she exudes similar intensity and vivacity. "Who would mind that?", she quips confidently confessing that the actress happens to be one of her particular favorites. In Student of the Year Alia plays Shanaya Singhania, naive, compassionate, from an affluent but dysfunctional family, having the world's luxuries in her closet, her heart pinning for true love and commitment. "Shanaya doesn't care for her riches, she isn't spoilt, or a brat. All she craves for his attention which her parents are too preoccupied to give her and yes, lots of unconditional love…. Ishq wala love," she grins wide.
From her wide-eyed stares to a million expressions a second to animated reactions, it's easy to gauge that Alia is every bit the filmi-nautanki she claims to be. "I'm very camera friendly, have always been a drama queen, so the audition was a breeze, even though I was very nervous', admits Alia whose first brush with the art was as a child actor in Sangharsh where she played the younger Preity Zinta. "I never went to acting schools. Instead I enjoyed dance so I trained with Shiamak for a while," she says adding that she was looking forward to joining acting school after college. But when she received Karan's offer for SOTY instead, it wasn't a tricky choice to make. "Dharma is an institute in itself and there can't be a better coach than Karan".
Like Varun, Alia squashes assumptions of having the contracts laid out because she's a star-kid. "I had to audition among 500 other girls. I've worked hard to get where I am and while I'll always be thankful of my family's support, this is something I want to achieve on my own"
Quiz her on the rumors of a budding romance with her co-star, she shrugs it off declaring her "biggest crush is and will always be Ranbir Kapoor", dimples-in-cheek, eyes twinkling.
Quite contrary to Shanaya who is seen sporting designer wear frame after frame in the movie, in real-life, Alia isn't as besotted with brands. Confessing to not owning any major brands until she has earned them herself, she does admit she enjoyed being dressed up and glamorous in the film. "Wearing Manish's clothes is being in fashion heaven, I'd happily live there". So what then are the 19-year olds real-life indulgences? 'French fries', she leans in and whispers before bursting into giggles. A very contagious one at that.
Student of the Year is in theaters now!