In his career, Martin Delaney has starred on stage, on television and has been seen in feature films like Kathryn Bigelow's Zero Dark Thirty playing a myriad of characters.  Taking on the challenge of doing something a bit different, the young actor plays the role of Tony in the British independent film Amar Akbar & Tony a realistic, multicultural coming-of age comedy drama.
Amar, Akbar & Tony follows the lives of three childhood friends as they stumble through life from their carefree twenties into adulthood. Martin's character Tony whose obsession with winning over the Asian woman of his dreams finds him pursuing the wrong woman.
Check out the trailer to get a feel for Martin's Tony and the world of Amar Akbar & Tony.
youtu.be/32Z1rdI_L5M
In this fabulous interview Martin Delaney tells us about playing Tony, how much the cast bonded while making Amar Akbar & Tony and why he thinks it is such a great film.
What made you say yes to this film?
It was simple really, I thought the role of Tony would be a lot of fun to play. You'll know what I mean when you see it.
What were your first thoughts when you read the script of Amar Akbar and Tony?
I really liked it. I thought it was funny. I felt like it had a lot of potential and was somewhat different from other film work I have done, so was very keen to be involved.
If you had to describe the film to someone what would you say?
I would describe it as a coming-of-age style movie, about three best friends growing up in London and looking to settle down. It has a lot of heart and is a lot of fun. It's a positive reflection of multicultural London, and is jam-packed with funny, beautiful women!
Tell us about your character Tony and his story within the world of the film.
Tony is a Londoner, of Irish background. He's a Catholic boy living in Southall and best friends with Amar and Akbar. I think of him as a 'trier'. There isn't much that will knock Tony's tenacity, though he's not the sharpest knife in the drawer. In the movie, Tony is completely unlucky in love. He's obsessed with finding the perfect Asian girlfriend/wife but ultimately his plan has its own flaws.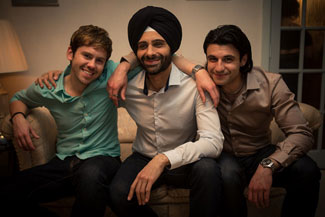 How did you prepare to play him?
Tony really reminded me of a character I'd played in TV show Renford Rejects some 15 years ago. He was kind of headstrong, whilst being potentially useless. I found him funny, so there was a challenge in making him lighter in tone but also real and truthful. There was some accidental prep involved, in that I had just had a relationship break-up in my personal life. I guess there was a very real, identifiable feeling of being a "loser-in-love", and failing at something hugely important to me. I played Tony as if he felt like this, but somehow he knew how to pick himself up again. I wish I were more like him in that respect.
How did you and Rez Kempton and Sam Vincent become the friends you portray in the film?
The three of us got on very well. When we did our final audition together, I had a great feeling about the energy we had together. In rehearsals we discussed a lot with Director Atul, and together came up with certain dynamics, humour and style. Those two guys are great chaps, it was a real pleasure to work alongside them.
Tell us about working with the other cast members and the ladies you had to romance.
Well we are very fortunate to have an incredibly talented female cast in the leading and supporting lead roles. We all had such good fun together, despite working long days. We got to spend a lot of time with Karen David, Laura Aikman & Goldy Notay throughout the shoot. I know Amrita Acharia was totally jealous of all the fun we were having as she wasn't around as much, simply because of work schedule. I was also fortunate to have some lovely scenes with Nina Wadia and Meera Syal. They were in all honesty, a real delight to work with! Our scenes were really nice ones to play and I hope audiences find them as funny as they were for us to do.
What did you enjoy most about making this film?
I enjoyed the bonding process with the whole gang. Tony was a lot of fun to play, there's no doubt about that, but just going to work with a cast you love is always a good thing. Our crew were amazing too, I spent a lot of time in the company of hard-working individuals, all wanting to make something worth watching, and here we are opening across the UK in cinemas! It's a fortunate pay-off, for which I'm very grateful.
Was it a different experience to shoot a British Asian film with primarily Indian actors and a director?
There was absolutely no difference in it at all. The script, for me, is the same. Amar, Akbar and Tony are all from different faiths and backgrounds but the challenges they face in their lives are not related to this fact. They are universal challenges that anyone of their age faces, or could face. That's what I loved in the writing and it was certainly something that Atul Malhotra mentioned when we met. His attitude towards this piece and reasons for writing it, are some of the things that inspired me to work on the film.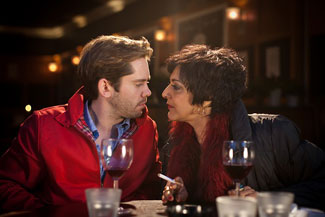 How was it to work with director Atul Malhotra?
He was great! Very open to ideas and discussion from actors which is wonderful but also knowing exactly what he was after. That way, should you offer anything that doesn't fit, it's out the window and I liked that about him. I loved his idea for Amar, Akbar and Tony, that there was no giving-in to racial stereotypes that we'd seen over in British film.
How was it to shoot in London?
It was great fun. Some familiar places from my youth too! It's always nice to make a film that shows off London so well.
Have you watched any Hindi films?
Sadly no. My knowledge is not great in that area- terrible really. I'm sure Tony would have watched a fair few!
What are your thoughts on the soundtrack of the film?
I think the soundtrack is awesome! Rishi Rich has done a great job- not at all surprisingly. My sister Jennie Delaney has also recorded a track for the album. She's been singing for some years now and last year did a tour of the USA. She recorded a track with Rishi and I love it! She did good. Ha! In fact, when is it out? I want a copy of that!
Why do you think this film will appeal to not only British Asians but every audience?
I think it will appeal simply because it deals with completely universal themes, like friendship and love. I think it's an enjoyable film and people love to go to the cinema to be entertained and have fun. I'm very lucky to work with such a great cast and I think they will appeal to audiences everywhere.
What do you think makes Amar Akbar and Tony special?
I think what makes it special, is its unique blend. It's very much like taking a Bollywood style movie- packed with drama, comedy, romance and bhangra- and sticking it slap-bang in London, in a very Richard Curtis-style way.
What did you think after you saw the final film?
Well, much as I have some serious trouble watching my face on a screen, I enjoyed the final product a lot. I found it great fun and I can't wait for audiences to see it!
Do you think there is a message to the film?
Someone asked me this the other day. For me, it's just a message about love. And that's of course, about acceptance too. None of these boys' challenges are because of their backgrounds, and yet we are living in a time, where different cultures are commonly being attacked in Britain. I don't believe this is ok, and I think life is about being open and accepting. As a wiser person than I, once said: if we can love our neighbours, we eradicate the enemy. For me, the whole movie is about love. The boys are looking for 'the one' and everything that comes out of the film is a result of love. The friendships, the family, the drama as well as the comedy.
What will we see you in next?
I've just completed making a British film called 'Bonded by Blood 2'. It's a very different role to Tony. I play a man called Malcolm Walsh in the film. He's a tough character and respected locally, because of his violent streak. It's been great to play, very different from anything I've done recently too. I'm also currently working on a Hollywood movie 'Now You See Me: The Second Act'. I play a small American role in the film, but I'm afraid my lips are sealed on that one for now.