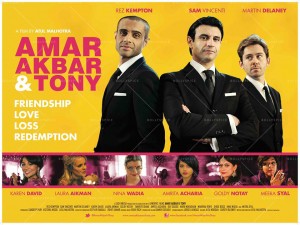 A new British independent feature – Amar Akbar & Tony by director Atul Malhotra, will be screening at the Mumbai Film Festival this October. The bitter-sweet romantic comedy has been listed in the Film India Worldwide category, and will be showing on 18th and 19th October, marking its first foray on the festival circuit.
Amusing, ironic and stark in turn, Malhotra's Amar, Akbar & Tony, explores the rigid social taboos that can affect and distort the young and the families they interact with. It does so through the eyes of three childhood friends looking for love in multicultural London. Interracial romance, violence, sexuality, family, love and loss are themes that are explored and shared by the three main protagonists – Amar, Akbar and Tony, over a ten-year period – as the trio deal with the absurdities and unpredictability of life.
With an impressive cast starring Rez Kempton (Merchant Ivory's Mystic Masseur), Sam Vincenti (Alfie) and Martin Delaney (Zero Dark Thirty) in the title roles, the film also includes Laura Aikman (Keith Lemon : La Vida Loca), Karen David (ABC's Galavant), Goldy Notay (It's a Wonderful Afterlife) and Amrita Acharia (Game Of Thrones) with special appearances from British-Asian comedy veterans Meera Syal as the voracious Honey and Nina Wadia as stern matchmaker Seema. Not to mention a screen debut for rapper Shide Boss and an original soundtrack by music producer Rishi Rich.
Written and directed by Atul Malhotra, Amar, Akbar & Tony is scheduled for its British release in early 2015. Speaking of its inclusion at Mumbai Film Festival, Malhotra commented: "It's a real privilege to be screening Amar Akbar & Tony at the prestigious Mumbai Film Festival and represent independent British film to an international audience in India. It's a wonderful platform to debut the film. The film itself is a positive reflection of multicultural life in London (particularly West London where it is set). I feel very proud that it's been selected and look forward to bringing it to audiences in the UK when we release there in 2015."