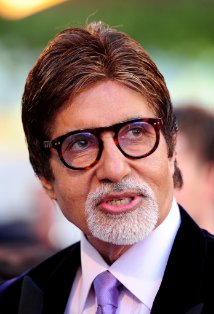 Farhan Akhtar and Sonam Kapoor starrer Bhaag Milkha Bhaag opened in the theatres last Friday to overwhelming responses and reviews. The biopic on India's sports legend Milkha Singh is on a compliment receiving spree from all segments of the audience. Everyone from the industry who has seen it has been raving about it on social networking sites. After a special preview organised by the filmmakers for the industry, Amitabh Bachchan took to his blog to share his thoughts and appreciation for the film and everyone involved with it.
Amitabh Bachchan's Blog Entry on Bhaag Milkha Bhaag:
Just back from a trial of the new film to be released " Bhaag Milkha Bhaag ".. and I am so emotionally and creatively moved to put anything down in words today ..
'Bhaag Milkha Bhaag' …'Run Milkha Run' is the true life story of one of the greatest athletes of India, in his prime during the late 50's and 60's .. he broke the world record in the 400 meters … but there is so much more to him and this story of his life that is simply amazing … and Farhan Akhtar who has lived his role in the film is just unbelievable …
This is an extraordinary film, and made with equal aplomb and measure. The story of Milkha Singh is legend now, but to see it relived in today's time was an unbelievable experience.
Milkha Singh, a Sikh, born and brought up in pre partition Punjab, now in Pakistan, was the only survivor of his family, other than his elder sister, who had run away earlier, and whom he found after long when all the refugees were rehabilitated in camps, during the violence that erupted at the time of the division of India, into Pakistan and India. He was hardly 13 or 14 years old when his village was attacked by the opposite community, and saw his entire family brutally massacred .. all that he remembered was his grandfather yelling at him to run away, as the marauders came in .. and through out his life he had the most disturbing visuals of his grandfather screaming at him – bhaag Milkha bhaag !!
To see the entire re enactment of the brutality of the partition … of remembering those days of 1947, when I was a 5 year old in Allahabad, to hear all those horrid tales from my Mother's side of the family .. all Sikhs .. my Aunts and cousins, who had escaped from their land, and had come to live with us to escape the killings, was traumatising ..
My Mother's sisters have passed away, but I remember visiting them with my Mother after they were re established in towns, now in India – Sirsa, and Jullunder … some of them now in Chandigargh and in Lucknow .. my cousins ..some migrated to England .. but every time I spend time with them, those horrible tales of losing all their belongings – they coming from some of the most affluent families in erstwhile Punjab(Pak) – of the nightmares that they went through, the dislocation and the unbearable tragedy of each … just so depressing and sad ..
More people were killed during the Partition of India in 1947, than those killed in the entire World War II …
But for now I just want to come away from all those memories and allow my brain to rest and take in what I have seen in the film … the determination and effort of one individual, that has now become a landmark event in the history of the country …