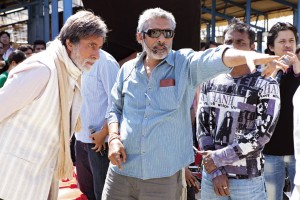 Amitabh Bachchan's characters and the style they carry have always been inspirational and quite the trend setters: be it the Jai of Sholay to Auro of Paa. Amitabh Bachchan strives to entertain, and so he not only works on the role given to him but also adapts and carries any new look and style the role requires. Any director having worked with Mr. Bachchan or planning to work with him really does his homework in visualizing and implementing the details of the character Mr Bachchan is to play from costume to mannerism. The costumes are planned taking everything into consideration and sometimes those designs take inspiration from real life.
The look and style of Dr. Prabhakar Anand, the character played by Amitabh, has a somewhat of a different approach in Prakash Jha's next film – Aarakshan. Even though we have seen Mr. Bachchan in a similar character, the audience with not only get to see him in a new dramatic avatar, it would be the first time when the look of the character is inspired by the director himself.
The character's look was designed while keeping in mind Prakash Jha's look in real life, the way he keeps his hair, to the thick rimmed frames, the solid kurta colors, the khaadi jacket and the checked muffler to complete the entire look. Priyanka Mundada, the costume designer of the film, said, "It was an interesting sitting I had with Prakash ji and Mr. Bachchan when we were discussing the look of his character in the film, when looking at Mr. Jha, Mr. Bachchan points out and says 'that's it, that is Prabhakar,' both Prakash ji and I were quite taken a back."
Amitabh Bachchan is all ready to appear in the theatres in his next film Aarakshan this August 12th! Stay tuned because we have an exclusive interview with the director coming up soon!