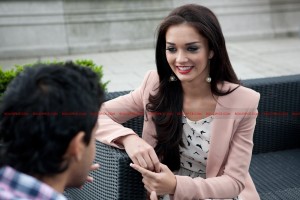 British actress and Miss Teen World 2009, Amy Jackson, recently shot in the UK for her upcoming Tamil film Thaandavam starring superstar Vikram (Raavan) and actress Lakshmi Rai.
The 21-year-old actress who was last seen in Ekk Deewana Tha spoke to Bollywood reporter Sunny Malik about filming in the UK, her upcoming film, boyfriend Prateik Babbar and racism in India.
You have been shooting for Thaandavam in London for quite some time now. How has it been for you shooting here and to live here in the UK again after being in Mumbai for a few years ?
It has been fantastic. I was born and brought up in the UK. It is a comeback and to be shooting an Indian movie here is the best way to do it, I suppose. I got to see family and friends and obviously I have been shooting my movie with Vijay (the director). It is a whole package in one.
You made your Hindi debut with Ekk Deewana Tha. Were you disappointed that it did not do well ?
Obviously, I was disappointed with the box office and some reactions. But I was very proud of my performance and me and Prateik put in a lot of effort into the movie. Unfortunately, the movie was not adapted from the Tamil and Telegu version. It was just a South Indian film in Hindi with Hindi actors. Everything else was very South Indian. That's just the way it is. I am not ashamed of the movie or how it did. I am very proud of it. Gautham Menon is a great film director. I would love to work with him again in the future.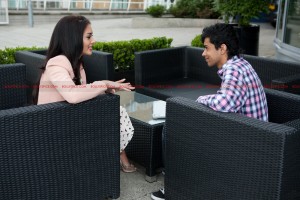 Did it put you off from doing Hindi movies in the future ? Did you think that I have been successful in the South, so let's just do what has already worked for me?
I am going back to Hindi movies at the end of the year. I have signed another Hindi movie and it has definitely not put me off. I am living in Mumbai and all my friends are based there. I have had success in the South but that does not want me to just stay there. I don't want to be a fish in a big pond. I want to expand and take it to Bollywood. I definitely think that I am able to do it and I am putting in a lot of effort into it. I do my dance classes and Hindi lesson everyday. I am very determined to succeed in it.
How much time does it take you to learn Tamil and Hindi dialogues?
You know I thought, Hindi was difficult because I did not know the language but Tamil is whole different story. It feels like gibberish to me. The way you pronounce the words, it is something I have never done before. But Vijay is brilliant and has helped me a lot. I don't feel conscious on set which is good. I feel very comfortable and I don't stress about it. Although, the pronunciation is probably terrible, it works.
At the press conference of Thaandavam Vikram said that you actually feel like a Tamil girl.
(Laughs)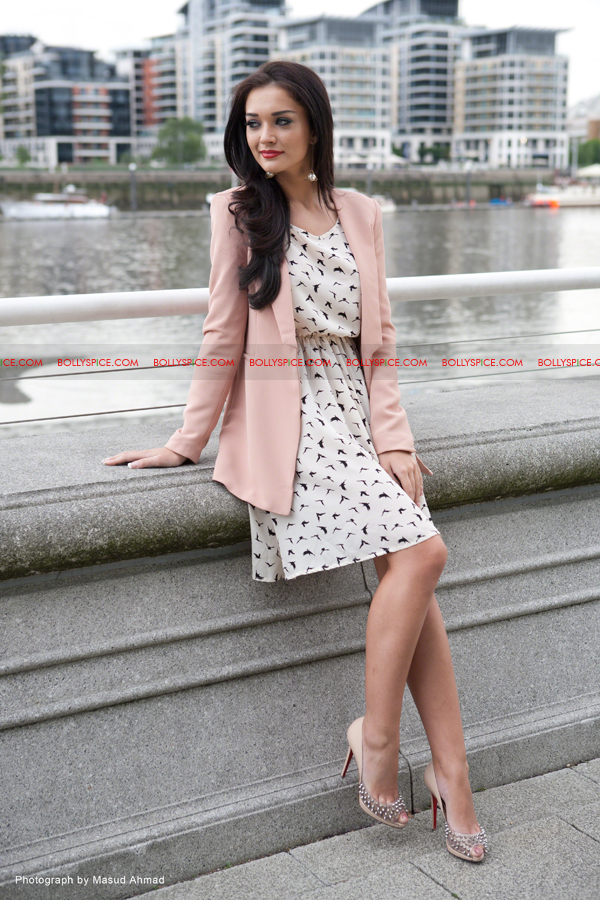 Do you really feel at home in India?
That is definitely my home now. I feel strange being in the UK. I feel like a tourist and did all the tourist things. I went on the London Eye and took all the tourist pictures. Mumbai is now my home and the way the Indian audience, especially down south, have welcomed me is phenomenal. I think, if I did not have the support of the people, then I would not be living there. It would be horrendous. I would not know anybody and people would not be comfortable with me doing Indian movies. It has been great the way I have settled in.
I remember someone wrote to you on Twitter that you should not be working in Indian movies because you are not Indian to which you reacted. There is a concept amongst people that only Indian people should work in the Indian film industry. What is your take on it ?
I have a very strong take on that but I won't get into it too much. (Laughs) You get that everywhere all over the world not just in India. I accept that, however, I am embracing the Indian culture and I am loving it there. It's terrible when people try to discriminate others because of being part of another country. My doctor is Pakistani and my dentist is from Mumbai. You hardly find that an issue in the US and UK. It's not acceptable to say those things. But in India, freedom of speech is something else.
How do you deal with it?
To be honest, at first it affected me. I was shocked that people were saying things like that. There are whispers about it and there will always be. I am not going to be ashamed and hide behind things. I understand that some people say foreign girls should not be playing a part of an Indian girl, but then look at the likes of Leonardo Di Capri played a South African character in a film. It's just an issue that a minority of the audience has. It is not something the mass population has a problem with. Thank God. (Laughs)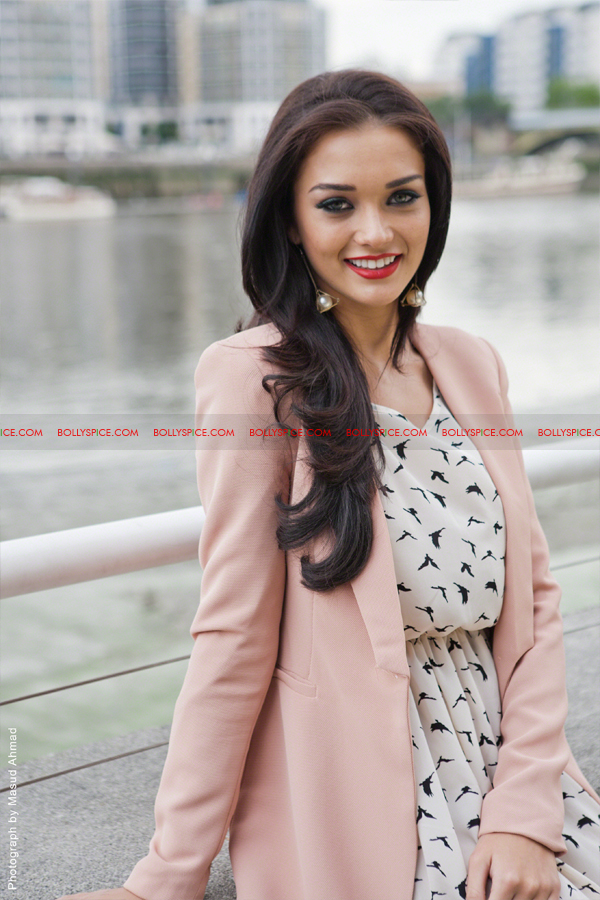 Tell me a little bit about Thaandavam.
The movie is an action thriller and has a lot of great action sequences. I have got a few action sequences myself. There is romance, comedy and there is a lot of everything in the film. I have comedy and romance scenes myself in the film.
Prateik also came to visit you in London. Did you show him around?
I did. I was in London for modelling and I lived here for a while, I did not actually see the city properly. We went on days out and we did the guided tours here. He has been to London before but that was ten years ago. He needed an update on the city and my mum was here during the same time and we spent a lot of time together which was really nice. He also met Vijay and the whole crew.
You are also quite open about your relationship with him.
Yes, I don't see the point of hiding things. We are very committed to each other in a serious but easy-going way. We share a great relationship. I know a lot of actresses and actors, especially in Bollywood, who hide their relationships. In the UK they are more open about these things, I think that's why I am open about it. Prateik is also very open about our relationship. I don't see that changing. We have a very good bond with his family and my family. We are good friends even though we are partners. Even ten years down the line, we will still be friends no matter what the situation is.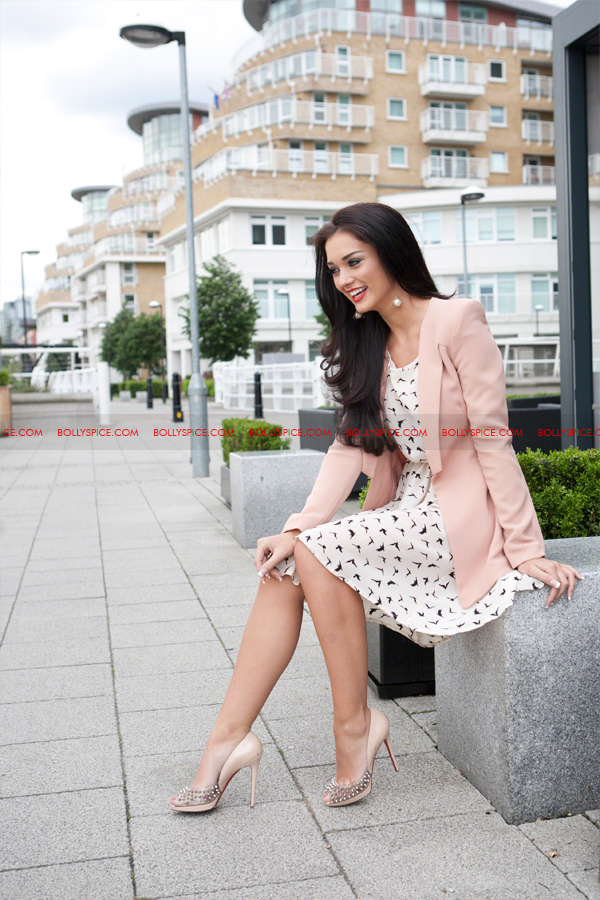 What are you looking forward to doing in Bollywood?
There is a whole list of people I want to work with. Kareena Kapoor is someone I would love to star in a movie with. Ranbir Kapoor is my favourite actor and I would love to work with him. I would love to share the screen space with either of the two. Also, I don't want to get stuck in the typical British girl in Indian film roles. I don't mind them at all but I want to play a different variation of roles. I think, a lot of actresses in Bollywood tend to go down the line of doing glamorous roles. I would like to play a role like Vidya Balan in The Dirty Picture. She had a really meaty role and she even put on weight for the role.
Would you put on weight for a role like she did?
Yes, of course. That is important for an actor, to change for the movie. It will otherwise be just the same.
Photo credit: Masud Ahmad