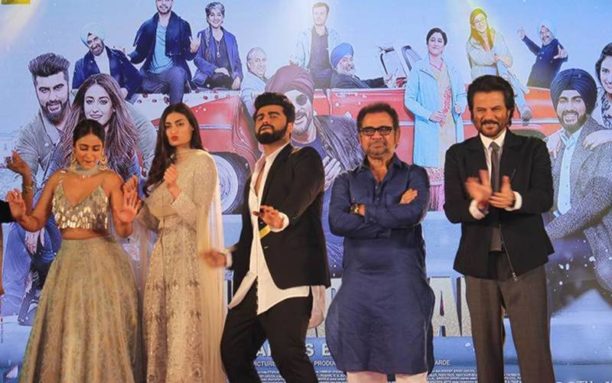 In a very unique and cool promotional event, a Mubarakan sangeet was held last week and the whole Mubarakan cast Arjun Kapoor, Anil Kapoor, Athiya Shetty, Ileana D'Cruz and director Anees Bazmee were there. Also present at the very special celebration were Amaal Malik and singer Armaan Malik.
The sangeet event is the first time the cast of a Bollywood film has invited audience members to partake in an event of this kind. Like a typical sangeet at an Indian wedding, there was stunning decor, night-long hospitality and the cast wore lavish wedding outfits as they danced merrily to the fun-filled tunes from the film including Hawa Hawa and The Goggle Song. The sangeet gave guests a little glimpse of the glitz and glamour of the weddings that will be bought to the big screen on 28th July in this rib-tickling comedy.
During the evening Arjun and Anil had a fun mini Question Answer round.
Check out some of the interesting revelations that were made by the chacha – bhatija jodi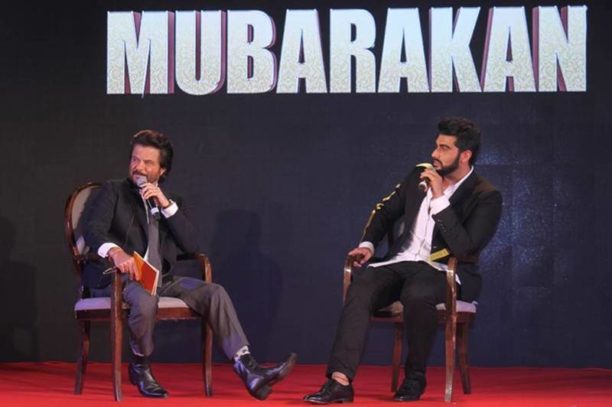 Anil Kapoor talked about his relationship with his brothers Boney Kapoor and Sanjay Kapoor, "Sanjay is the most decent. I was the naughtiest. Boney and I used to fight a lot and he used to beat me up…" The actor then added, "His contribution in my career is tremendous. He worked hard and we made great films together. We learnt from our father to put our blood and sweat into our work. That's how we are and will be till we die."
So who is the most influential person in Anil Kapoor's life? "Without any discussion it has to be Raj Kapoor. He is the greatest showman, fantastic entertainer, great director and his films used to be really entertaining.
"He was absolutely extraordinary. All his films have such recall value that they are still so much relevant in today's times as well. Be it films like Shri 420, Awaara, Mera Naam Joker, Bobby and many more. So for me, he is the greatest influence on my life from the Indian film industry."
Adding, "His films' music and background score was also so unbelievable."
Anil also said no one presented heroines better than Raj Kapoor. "A true Indian filmmaker who believed in presenting heroines so beautifully. I don't think there is anybody who has presented their heroines so well than Raj Kapoor."
Anil asked Arjun what is the best thing you have inherited from our Kapoor genes that you are thankful for? "Of course, the love for cinema, passion and the need to connect," Arjun answered. "No matter how many times you need us to be, we are at the neck and call of the audience. There has been a constant urge of entertaining people and making good films. There have been good films and bad films, but our family has never given up. I am very grateful to be a part of this family. That's what I have learnt from my family."
When Anil Kapoor asked Arjun about his favourite cousin he first answered you are, 'My most favourite I would say' but then added, "Sonam is also my favorite cousin. We both are of similar age. We both have gone to same school and from the beginning I am very protective about her and will always be in my life".
Mubarakan releases on July 28, 2017.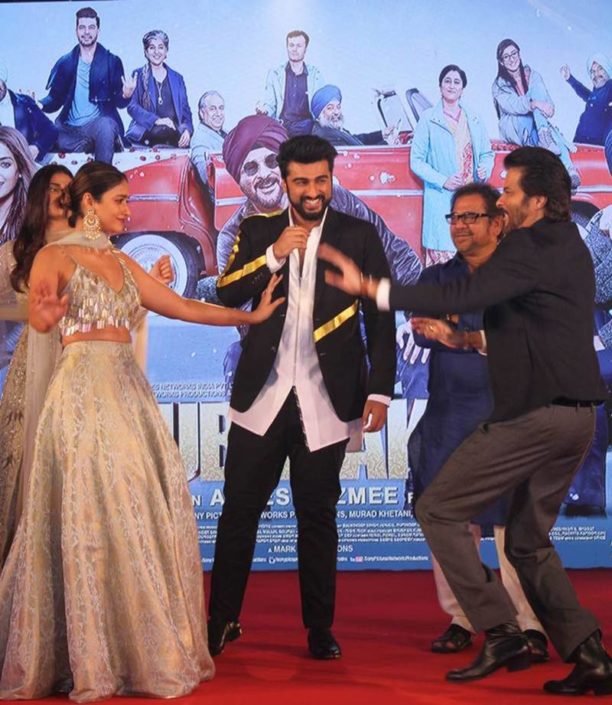 Photos by BL SONI