Superstar Anil Kapoor, who has never shied away from reinventing himself on screen and always delivers fabulous perfomrances, has wowed critics and even more audience with his brilliance in Fanney Khan, the official Indian remake of the Dutch film Everybody's Famous. Directed by Atul Manjrekar, and also starring Aishwariya Rai Bachchan, Rajkummar, Divya Dutta and newcomer Pihu Sand, the film is an original and hilarious comedy about how far some people are willing to go for fame.
Essaying the role of a father who aspires to be a musician in the film, Anil Kapoor spared no effort to get his look right and even learned to play the trumpet. But it is with his outstanding performance in the film continues to prove why he is considered one of the finest actors in the country.
Story: Take a father with long lost dreams of success, a young girl who dreams of becoming the next great singing sensation, throw in a chance encounter with a massive superstar… and what do you have? …The makings of the hilarious, yet thought provoking film Fanney Khan.
The film follows Anil's character Prashant Sharma, a family man, who in his younger days, dreamt of becoming a singer and songwriter. His almost dead dream finds a new life with the birth of his daughter, who he ambitiously names Lata. Pinning his hopes on his teenage daughter, he takes her to singing contests where the awkward and overweight girl struggles to belt out a tune, leaving one wondering if she really has the talent to be a star singer.

In a chance meeting while job hunting, Prashant runs into Baby Singh, India's biggest popstar. The story takes a comical turn when Prashant in the spur of the moment decides to kidnap her. His ransom demand – Lata to be heard by the whole country in the most popular music show – LIVE- else he will kill the pop star.

Will things go as planned? Is Lata really talented enough to deserve to be a star? And most importantly, will the show go on? Told in a most hilarious and heart-warming way, the film tells us how far a father would go to make his daughter's dream come true.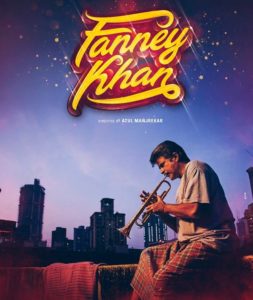 The star has been given rave reviews for his fine performance from every Bollysite with compliments like he was "the soul of the film" and many praised his outstanding and touching performance. The Subhash K Jha review carried on BollySpice called the film "heartfelt and emotionally resplendent." and much of that amazing heart has been accredited to his performance.
The Bolly-fraternity has also come out in praise for the film
Another heartfelt performance from @AnilKapoor in #Fanney Khan lovely debut by #Pihu Sand . Last song lifts your spirits and makes you believe dreams can be fulfilled. Ash and Rajkumar's unusual pairing worksAll the Best for its success

— Azmi Shabana (@AzmiShabana) August 3, 2018
Wishing the entire team of #FanneyKhan the best?@AnilKapoor you are the heart of the film with superb performances by everyone! Good luck guys ?@RajkummarRao #AishwaryaRaiBachchan @divyadutta25 @RakeyshOmMehra @AtulManjrekar

— Madhuri Dixit Nene (@MadhuriDixit) August 3, 2018
Just saw #FanneyKhan. What a beautiful film. A great message and worthy film. Congratulations to the entire team. Leaves a huge emotional lump in your throat. @AnilKapoor, Rajkumar, Pihu, @divyadutta25 are all so, so good. And the Mrs. continues to be my favourite! Best wishes.?

— Abhishek Bachchan (@juniorbachchan) August 2, 2018
#FanneyKhan shows once again what a brilliant and exemplary actor @AnilKapoor is! Aishwarya is lovely! @RajkummarRao as usual u r flawless! Congrats Bhushan sir and @TSeries on A film with heart.

— Milap (@zmilap) August 2, 2018
And that is just on the first day!
We have to say that this is a film and a performance that must be seen!