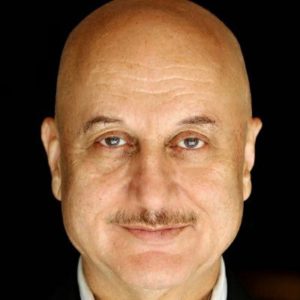 Considered one of the finest actors in cinema, Anupam Kher has embodied characters in over 500 movies in Bollywood, Hollywood, England and beyond. For his 500th film, Mr. Kher stars in the Hollywood film The Big Sick. Directed by Michael Showlater, the film, which is currently in limited release in the US, hits theaters everywhere on July 14th.
The beautifully crafted rom-com is the true story of actor Kumail Nanjiani's unique journey to finding the love of his life. Written by Nanjiani and his wife Emily V Gordon, it lets us into Kumail's world during a time of this romance, the "big sick" and an emotional tug-of-war between his family and his heart.
The film also stars Zoe Kazan as Emily, Ray Romano and Holly Hunter as Emily's parents and Zenobia Shroff and Anupam Kher as Kumail's parents.
While he was in New York for the film's premiere, Mr. Kher, in a fabulous conversation with Stacey, revealed the interesting story of how he got the part, discussed what it was like playing Kumail's father and tells us why he thinks this is such a special film.
Tell us about you became a part of The Big Sick.
So Kumail's ex-agent in LA is also, coincidentally, my distant cousin. Her name is Priyanka and we actually don't talk much because we are so both busy. I did not even discover that she was my aunt's-cousin's-sister's-daughter or something – it is easier to say that she is my distant cousin. So she called me up after maybe two years and she said my ex-client Kumail Nanjiani, who works in the show Silicon Valley, has a script. It is based on his own life and he wants you to be a part of the film. She added, it's because he asked his father, 'who do you want to play you?' and his first choice is you. So, I said okay… there is an emotional angle to this a part from a professional one. I said, "Give me Kumail's number." And she said, "No, no, no, no they will approach you with an offer." I said, "No, just give me the number." She gave me the number and I called while I was on a morning walk. I told him this is Anupam Kher and he thought that somebody was playing a prank with him so he said, "Can I call you back?" He called me back and then he really discovered it was me. I said, "You are making this film and it is your father's wish that I should do that role?" He said, yes and I said, "Okay I am doing it!" It was as simple as that. He said, "It means you will do it? What about the script and all that…." I said, "Look, if you want to fulfill your father's wish that I do this role, let's just get that out of the way first. Now you send me the script and we will work on it. If I don't like my character, if I don't like my role, if I read the script and then decide, that means I will have questions and I might not react to it the way I am reacting to it right now."  He said okay and added it is a small budget etc, etc. I said, "Don't worry about it. I am doing this because I would want a son to sort of say to his father I got you what you wanted."
Then he sent me the script and asked about what changes I might suggest. I said make these changes if you can, keeping the framework of the film in mind. I basically wanted the character to be more believable, more real, more modern. Just because you are from a certain community, from a certain South-Asian area, it does not mean you have to be clichéd. You are normal, it is okay – different issues are happening. There is a life that we all live. We can be warm, we can be real, we can be insecure, we can be subtle, we can be angry. Emily's parents' characters are very well defined. Kumail's father and Kumail's mother were really stereotypes in the first draft that they sent long time back. I said, "Why do you want your parents to be stereotypes? Why do you want to sort of take shortcuts to convey this story? Let's make these characters interesting." At least I said let's make my character interesting. So they were ready to do that. Then we improvised on the sets a lot. I think what you see now is much more interesting. There are a lot of shades to the characters. It worked out well.
So you enjoyed shooting the film?
I loved it! Except there was a work permit problem so I could not shoot for lots of days. They needed to finish the film and they discovered that if by 2:00 the next day it does not happen they will have to let me go. I was in NY for nine days sitting and waiting for the permit to happen and at 12:30 I got a call that it did happen. So there was a parallel suspense thriller going on. In a way it was good because then we focused on those scenes because we had to finish them in less days than they asked for. It worked out well in the end.
So how was it to work with Kumail Nanjiani?
You know, the most difficult thing is for anybody is to play himself. I think what he needed from me was compassion and love. Rather than this actor who has done 499 films before this and taking this burden of being a so-called "veteran actor". I just wanted him to feel completely comfortable. That was more important than my performance. I think that is what I needed to give him.
I think that shined through in your character as well, especially in that last scene together.
I think that the person and the actor both needed to give him love. It was easy because he is a nice boy. Sincere and hard working. He was creating his own character and that was what was important to give him love.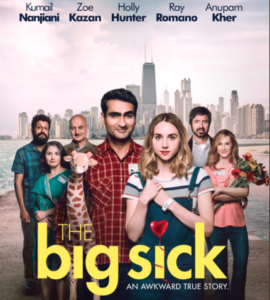 What about working with director Michael Showlater?
I think any director who is open to suggestions is a very confident director, according to me. Michael is very much that way. He is a stand up comedian himself, which worked for this film. He understands an actor's psyche. He understands what an actor wants to bring into the project and into the script. In that way, it was wonderful because we could improvise. We could work on it.
Have you seen the whole film? What are your thoughts?
I have. I loved it! It has gotten great reviews from everywhere!
Do you think, especially in the political climate in the US today, that this is an important movie and an important message?
It is! It is very important. This kind of a subject is important at any time, I would like to say. Of course, you can make political correctness or references of it and take it in that sense. In another sense, the way that they have dealt with their lives especially because it has happened, it is not fiction, is very important. It is a possibility that things can be tackled in a different manner. It could have gone wrong anywhere, because sometimes when you are showing real life situations you can loose objectivity. In this film, they have brilliantly captured objectivity of emotions. It is important from that point of view.
I think that it is a success story according to me. It is a success story about love. It is an inspirational story about togetherness. About believing in positivity, about believing in optimism. In that way, it is also an important film. It is also about various cultures, it is about different people. It is about father and son relationship. It's about understanding family values. It is about so many things and I think that is why the film works because it breeds a lot of possibilities. I think that is why it is important. I also think that is why it is being loved by audiences all over the place – by critics, by writers, by everybody. To me it has to resonate with the audiences, with people, and it does. It is fantastic.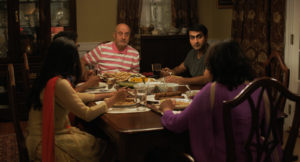 As you said, this is your 500th movie and you are now working on your 509th film. So why do you still love stepping onto the stage or stepping in front of the camera?
It gives me a great sense of being alive! You see, it's no more only about being in cinema; it is knowing so many people, so many characters. It is so wonderful. I am now understanding the craft of acting. See all this time there was this desperation of proving myself. Now I don't think I have that desperation. I just want to enjoy it. I have always enjoyed my work. But now I can do a character in a different manner. I can work it out in a different manner. I don't have to sort of see okay, this is the only way to do it so that it is effective. It is a great feeling.
The only way to get self worth is by work. There is no other emotion, which gives you self worth as much as work gives you. Everything else fizzles out or everything else starts getting taken for granted. Not work – ever!   I am fortunate enough to be working in a profession where you can never sort of say this is the ultimate; this is how I want it. What that means is that if it is the same character that I approach after 5 years, if I have grown as a person then I will say I can add this dimension also. I will continue to be doing that. I am lucky to be in a profession where if your body and mind is sound you can do it until the age of 90 or more!
When you first started out, did you ever imagine you would be doing 509 films?
No, I never imagined that but I always keep a sense of wonder about life and I believe in kuch bhi ho sakta hai, I mean anything is possible. One does not keep yardsticks and records in mind, but as long as you keep working and you are happy about things, things do keep happening to you. I think it is wonderful to be able to work and to enjoy it and to meet people, to get to speak to a lot of people. It is not the number; I think it is the quality of life that one has put in those numbers. I am happy that my 500th film is the most talked about film in today's time.
I would like to thank Mr. Kher for being so wonderful each time we have the chance to talk about his movies! He truly is fantastic. I loved his performance in the film. He added such depth and feeling to every scene he was in. I have to say this film is one of the best movies I have seen so far this year. I highly recommend that you go see The Big Sick!
To read more about this wonderful film, check out my review here: here.