Though only in the industry for a few years, actress Anushka Sharma is considered one of the biggest stars in Bollywood. She began her career with Rab Ne Bana Di Jodi opposite Shah Rukh Khan, and since then has given audiences some fun characters and fabulous performances. For her next project, however, Anushka really wanted to challenge herself, and so she took on a new genre, a new character, a new director and a new co-star. Opening on Friday, January 11th, we will see the young actress as Bijlee in Matru Ki Bijlee Ka Mandola, a dark comedy directed by the great Vishal Bhardwaj and co-starring Imran Khan. From what we have seen of the character and from what Anushka has told us Bijlee lives up to her name, but she is also one of the most complex characters she has played. Read on to see what else the actress told us when we caught her for a quick chat on all things Matru Ki Bijlee Ka Mandola.
What was it that drew you to this role?
You know it is Vishal Bhardwaj's film and I always wanted to work with him. He is one of the best directors we have in our country. He makes a certain kind of cinema, which stands apart. To be able to be a part of a film like that ensures that I will be seen in a different light, I will get to learn something new and do something challenging. That was the reason I was excited to hear from him. Then when I heard the script, I was just blown away. It was just fantastic. It was a genre that Bhardwaj was just getting into; he has not done a film like this – a comedy/drama. Although his films have always had a certain kind of humor, a very dark straight-faced type of humor, this film is an out and out comedy-drama. It just was a really amazing script and that is what drew me to the project.
How would you describe your character?
Well, Bijlee, as the name suggests, is like lightening. She's a spoiled brat. She lives in this town and her millionaire father Mandola, who is being played by Pankaj Kapoor, pretty much owns the whole village. She is well educated, she has studied abroad has done her education at Oxford. Now she has now come back, she is living with her father and she is getting married to a politician's son. She is a very, very spoiled girl. I would say that the way I perceived this character, as an actor, was that I felt like she was a bit of an attention seeker. She does things out of the ordinary like coming out of a pond where buffaloes are bathing and getting that tattoo. She definitely is an attention seeker and she does what she wants to do. If she feels like doing something she just goes for it, there are no second thoughts, there is no second-guessing with her. I think somewhere on a very latent level there is a very strong sense of attention that she tries to seek. That's the way I perceived the character. She is quite the complex character. Actually, she is one of the most complex characters in the film.
That must be interesting to portray somebody like that with so many layers to her. What was your process of creating Bijlee in your mind?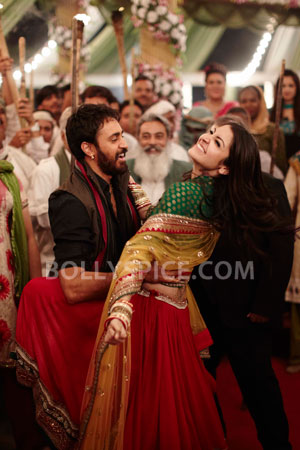 It was actually completely a mental process more than it has to do with the physical for my character. Because apart from the fact that I have tattoos and I have to make my eyes look very dramatic with Kohl, looking a bit Goth-like. And the clothes were a bit out of the ordinary they were something that would not stand out, where I really had to work was the thought process of the character. Mentally it really took a lot out of me because it was a new world for me, it was Vishal Bhardwaj's world. I am used to doing a certain kind of films that are…what would you call them… less complex. Things have been very simple, you know, you are seeing everything playing in front of you – it is all there. The characters are playing, the story is happening, it is all flowing and it is easily understandable. Whereas here, although it is easy to understand, it is not like you are solving a mathematical equation, but there is a lot of depth and a lot of complexity in terms of the characters and their relationships. I think that is something that took me time to get into because I felt like I was putting the pressure on myself. Nobody was pressurizing me because Vishal Bhardwaj had so much faith in me. But, I was putting so much pressure on me because I wanted to do really well because the role that I got was really different from what I am as a person. It really is something you have to work on, on a mental level not just how she appears. If you see the character she looks very vivacious and full of life etc. etc., but what is happening with her in the film and her vulnerability, all these things are something that I had to bring out in her as a character without the help of any dialogues, which is very, very difficult. I think that is something that I had to pull out.
What do you think Mr. Bhardwaj brought out in you as an actress?
One thing I could definitely say about Vishal Bhardwaj is that he makes you do things that you never thought you would be able to do and he makes it look effortless for you. He is a director that pushes you in the right direction. He does not hold your hand and spoon feed you. He tells you, makes you know that, 'I have confidence in you. This is what I think and you go ahead and do your job. Go and perform the scene'. After I have done my rehearsals and I have done a take, then he comes and he says listen here and he just makes a small change and in fact it really seems like a slight change, some small nuance that he wants you to add to the scene or to alter your performance, but that is actually what makes the scene and makes your performance. When I was acting in his movie I felt… I felt the things of what I was playing, it really was internalizing my emotions. You know, I have felt that in other films, but I felt that in some parts of the film or like two scenes in a film, here I felt it from start to finish.
Tell us about working with Imran.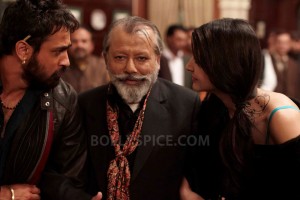 I had a great time working with Imran. I had heard a lot about Imran and everyone knows him as 'The Nice Guy'. The only thing I had heard about him and this is really funny is the fact that he has a very bad sense of humor. He really is quite straight faced and he often cracks jokes that nobody gets. He said it himself in some interviews with him I saw that I often crack jokes and no one is laughing with me. I thought that was really funny, but when I met him and when I started interacting with him on set I found him really, really funny. He, in fact told me just today, that you are the only actress who gets my sense of humor and who understands it. I think Imran and I really connected well. When you are working with someone who is closer to your age there is a different kind of bonding that you share with them. Apart from that I think Imran has worked so hard on this film it is something so different from what he has done before and he has worked really hard. I think this is the best he has looked in his career, to me. Imran is a very easy person to work with and who doesn't want it easy in life. (Laughs)
It was wonderful to chat with the actress even if it was to short! We can't wait to see her Bijlee come alive on screen! You can watch Imran, Anushka, Pankaj Kapoor and Shabana Azmi in Matru Ki Bijlee Ka Mandola when it hits theaters on Friday! Stay tuned we have an in-depth interview coming up with Imran Khan soon!