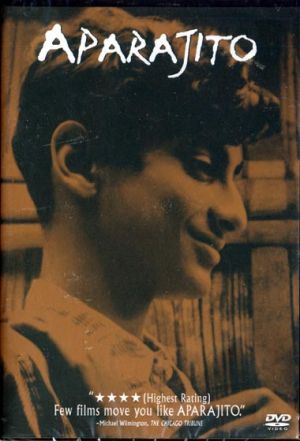 There is a pivotal moment in Satyajit Ray's film Aparajito:  Apu's mother, Sarbajaya (Karuna Banerjee) descends a staircase, obviously torn by the decision she must make after the death of Apu's father Harihar (Kanu Banerjee).  Should she remain as the cook for the family she has been working for in Benares, happy with her work, even though this would mean taking Apu to Dewanpur?  Or should she take up the offer of her uncle, to move to a house he has in the village of Mansapota, where she will at least be sure to be looked after?  She pauses on the staircase long enough to watch Apu through a barred window, and it's at this moment that she makes her decision.
This scene almost sums up everything about her role in Aparajito: the troubles of a mother, alone after the death of her husband, trying to do what's best, and obviously worried about her future and that of her child.  And a child on the cusp of adolescence, where he will learn more about what he wants out of life and will learn to take his first steps alone in the world.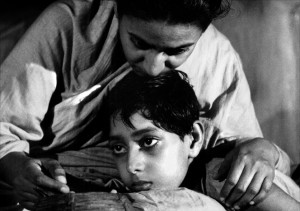 Sarbajaya decides to return to Bengal, to her uncle's house.  The uncle also ensures that Apu can be trained to become a priest, as his father was.   Apu does, but he longs to go to school, and Sarbajaya gives in to his begging.  Apu, it turns out, is a very good student, and as an older adolescent he is offered a scholarship to study in Calcutta, where he moves, juggling his studies with work in a printing press (in return for his room and board).
Aparajito reveals a Satyajit Ray continuing to expand his technical skills as a director, and the restored version of the film only serves to underline this, revealing the beautiful camerawork.  Ravi Shankar's score, once again, serves to echo the film's emotional beat. But Ray's story is also at the heart of this film, reducing Apu's family to two, himself and his mother, and thus serving to place emphasis on the nature of motherhood and the relationship between mother and child, particularly as that child grows into adolescence.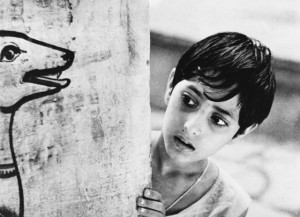 Apu's growth as an individual, though, shows him prepared to take decisions about his own future – he knows he wants to continue his studies, wants to study science, and wants to go to Calcutta to do so, a decision he takes before consulting with his mother, telling his headmaster that he will try to convince her.  But that need bumps up against that of his mother to look after him.  She is thrilled that he's done well in his studies, happy that he will get a scholarship, but the realization that this will take her son away from her immediately turns her mood.  At first she insists that Apu will not leave, that he will stay and continue to look after her by working as a priest, as did his father.  This is the eternal struggle between parent and child:  the parent wants the child to stay, the child must break away and find his own way in life.  Sarbajaya eventually relents; Apu sets off for Calcutta.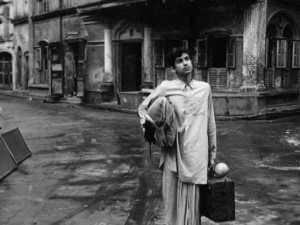 Teen-aged Apu is almost universally recognizable:  he is upset when he is tossed out of a classroom, yet he also skips classes. Reluctantly returning home to visit his mother, yet also reluctant to leave her.  Spending his breaks sleeping, sleeping, sleeping. Dreaming of travelling, knowing his mother would never agree to it.  Writing to his mother, but never as often as she'd like, not knowing that she is keeping her illness from him, even as she begs him to visit her.  In one of the film's most heartbreaking moments, an obviously ailing Sarbajaya imagines she hears Apu returning, and hesitantly makes her way to the door.  All she sees are fireflies in the dark, and not even this can ease her sorrow at being alone.
Apu returns home one final time, after someone else decides to write to him to tell him his mother is ill, but he arrives too late.  The realization – that he has come too late, and that he is now alone —  causes him to drop to the ground and begin to weep, all the while calling out for his mother.  His great-uncle encourages him to perform the shraddha, the ritual honouring one's dead parents, and to remain in the village as the priest.  But Apu knows that with his mother gone, this place no longer holds anything for him; his road leads him back to Calcutta.
The film is currently playing in NYC and Philadelphia and will open this weekend in LA, San Diego, Santa Fe, Baltimore, and Houston. Get the full info below!
Official Website – http://www.janusfilms.com/aputrilogy/index.html
Trailer – https://vimeo.com/126426286
Restoration video – https://vimeo.com/126427207