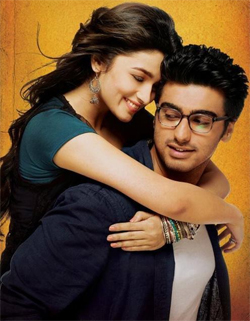 Arjun Kapoor has admitted that he was able to connect with his character Krish in the upcoming flick 2 States. Starring alongside Alia Bhatt, Kapoor has said that he was able to relate to the emotions of his character and this was what provoked him to sign onto the film.
"I relate a lot to the emotions of Krish and that is what mattered when I decided to do the film," said Kapoor to the Indian media. "He is a very family-oriented, very righteous person by nature and he has taken his mother's side and tried to fill that void that is there because of certain conflicts between the father, son and the mother.
2 States is based on the famous novel by Chetan Bhagat, which is about a couple who have to convince their parents to let them marry despite their cultural differences. "Every family has issues that subconsciously exist in our day-to-day lives," added Kapoor. They come out only when something big like a marriage or taking up a job happens. The conflict arises at that moment. So 2 States deals with that in a very interesting manner."
Adding to this, Arjun also said that working with Amrita Singh and Ronit Roy (who play his parents in the film) made it easier for him to exude the emotions of his character. "Where Ronit and Amrita are concerned, they both are fantastic actors and they made it very easy for me to work with them and pull off a very difficult layer of the film." "I know it appears as a broad family and romantic film, but there is an emotional layer that comes in this journey of the boy when he is trying to convince everyone that two people who love each other deserve to be together."
2 States releases in cinemas worldwide on 18 April!