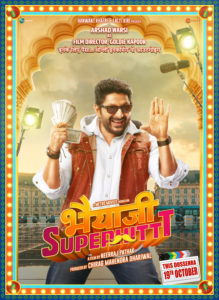 Here's presenting Arshad Warsi's look from Bhaiaji Superhit.
The actor plays Goldie Kapoor, a hit Bollywood director with power of convincing anyone and everyone in any given situation. He swears by money, lives for money and only loves himself and money. When it comes to money it is only incoming, not outgoing.
Bhaiaji Superhit starring Sunny Deol, Preity G Zinta, Arshad Warsi, Shreyas Talpade, Ameesha Patel, Sanjay Mishra, Brijendra Kala, Jaydeep Alahwat, Mukul Dev, Pankaj Tripathi and Pankaj Jha will be releasing on 19th October 2018. The action comedy directed by Neerraj Pathak will see Sunny Deol playing a double role for the first time.
Bhaiaji Superhit comes across as very funny, hilarious, colourful and larger than life yet emotional film. It showcases the coming together of two vastly different worlds of Bollywood and UP underworld.
Presented by Hanwant Khatri and Lalit Kiri, produced by Chirag Mahendra Dhariwaland directed by Neerraj Pathak, Bhaiaji Superhitt will hit the theatres on 19th October 2018.