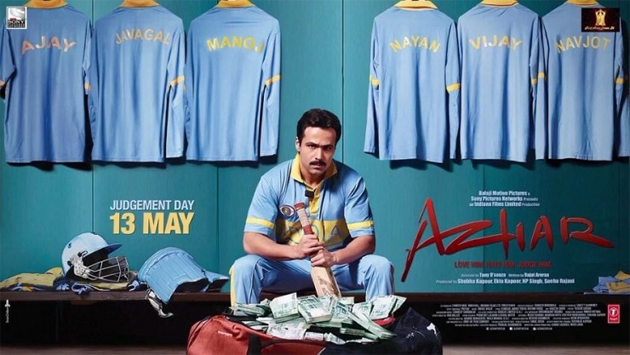 The forthcoming Balaji Motion Pictures film Azhar has been directed by Tony D'Souza and will see actor Emraan Hashmi play the role of a cricketer who has been supposedly "framed" for match-fixing. Nargis Fakhri, Prachi Desai and Lara Dutta also star in the film. The soundtrack has music by a mixture of composers: Pritam, Amaal Malik, DJ Chetas and a re-worked track by yesteryear composers Kalyanji and Anandji. Actor Emraan Hashmi is always known to have outstanding music in his films, so let's see how this soundtrack fares!
The album opens with the romantic ballad Bol Do Naa Zara, which has been sung by Armaan Malik and composed by Amaal Malik with lyrics by Rashmi Virag. What is refreshing about this song is that it actually stays in your mind and does not give you the deja vu feeling of having heard it before (as can happen with the majority of Bollywood romantic ballads!) There is a wonderful piano riff throughout and it is an easy-to-listen to composition with soothing vocals by Armaan. The Malik brothers have surely become everyone's current favourites, and it will be interesting to see how they keep progressing in the future. 3/5
The next track is Itni Si Baat Hain, which has been sung by Arijit Singh and has been composed by Pritam. I found this track to be very deja vu and reminiscent of earlier Arijit tracks. The song has a sleepy notion to it, but I do know many will enjoy it. However, it sadly did not have a lasting effect on me unlike 'Bol Do Naa Zara'. 2/5
Moving on to Oye Oye, which is the recreated Kalyanji – Anandji track. It really does seem that Bollywood has a fascination with this particular phrase (I am very sure the film Dhamaal or Rascals also featured a track with 'Oye Oye'). For me personally, there is nothing noticeable in the track and it is very much skip-worthy. I guess the film's producers suddenly realised that the soundtrack needed a peppy number and hence created this one. 1/5
We are then back to the ballads with Tu Hi Na Jaane which has been sung by Sonu Nigam and Prakriti Kakkar and has been composed by Amaal Malik. The song has lyrics by Kumaar. Sonu Nigam seems to enjoy singing ballads lately (remember 'Sapne Jahan' with Neeti Mohan in Brothers?) and he has delivered another fine ballad with 'Tu Hi Na Jaane' which also has a great music score. 3/5
The album closes on a high note with Jeetne Ke Liye. This song is almost like a theme song of the film, given that the story is based on cricket and winning/losing is often associated with sport. The song has been sung by KK, composed by Amaal Malik and has lyrics by Kumaar. Once again, KK shows how he is a master of such ballads. 'Jeetne Ke Liye' has a strong melody and a passionate feel to it, which leaves you feeling inspirational after listening to the song. It is a rock ballad which gives the listener a nice break after the earlier slower ballads. 3/5
Overall, the album of Azhar has some strong melodies and meaningful lyrics. While it is quite possible that the films music does not require that much importance, one can say the album has chosen a very safe genre of romantic 'ballads' as there is just one party number.
Top Picks: 'Bol Do Na Zara', 'Jeetne Ke Liye' and 'Tu Hi Na Jaane'.