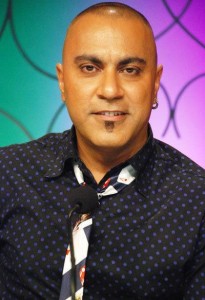 The king of desi rap, the thanda thanda guy, the dil dhadke sensation, Baba Sehgal joins the crazy cast of Y-Films', Bank Chor.
Baba plays himself in the film and is one of the crazy hostages who gets stuck inside the bank during the heist and drives everyone, including the robbers, the bank employees, customers and other hostages' bananas with his rapping.
An excited Ashish Patil, Producer, Y-Films quoted, "We're supremely excited to have India's first rapper, Baba Sehgal join us for a cameo in Bank Chor. The part was specially written in a later draft as both Bumpy (the Director) & I are huge fan boys of the man. Baba agreed to do it in one conversation flat and is doing it pretty much for love. He's also been entertaining the crew with his batty raps that he makes up on the spot about everything from the oily medu wada to the spot boy serving chai. What a mad film this is shaping out to be!"
Baba sent us a video with a special message about being a part of this crazy film. Go check it out here… http://on.fb.me/1DPm0ii
Bank Chor is a comic-caper, that tells the story of 3 morons trying to rob a bank who pick the worst day possible when everything that can go wrong, goes wrong and how they're inadvertently caught in the crossfire of cops, industrialists and corrupt netas. Bank Chor is directed by Bumpy and produced by Ashish Patil. The film stars Riteish Deshmukh, Vivek Oberoi and Rhea Chakraborty in lead roles. More exciting announcements on the project in the pipeline, stay tuned for more!